Compete

Art in B & W 2022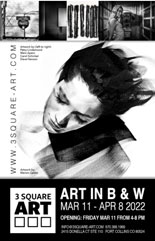 Opportunity Description
International Deadline: February 2, 2022– The Art in B & W, 3rd Annual Juried Exhibition is coming to the 3SA Gallery this March 2022. From Black and white to sixty shades of gray… this exhibit looks at all types of black and white artwork and photography and challenges the artist to convey their message in a world without color. From subtle shades of grays to broad and bold strokes of black ink or paint, we are seeking all types of work from conceptual to realistic.
On display March 11 – April 8, 2022.
ELIGIBILITY
Open to artists who are at least 18 years old (by the time of entry) and submitting original works of art. Artworks must be recent; any artworks completed before February 27, 2019 will be disqualified.
The competition welcomes all media, including painting, drawing, sculpture, photography, printmaking, textiles, and digital art.
AWARDS & BENEFITS
3SA Gold Award: $400 + Certification
3SA Silver Award: $200 + Certification
3SA Bronze Award: $100 + Certification
First Honorable Mention Award: Certification
Selected artists for the exhibition receive the following benefits:
Juried Exhibit
Posting to 3SA website and social media platforms
Professional exhibition space and display of artwork
One of top galleries in Northern Colorado (great addition to resume)
Accepted artists will be listed on the 3SA website with their work and link to their website
Press releases on exhibition sent to 3SA media outlets
ENTRY FEE
$42 for 1-3 images, $48 for 4 images, $54 for 5 images.
APPLY ONLINE
Visit us for more information and easy online entry.
DATES
Submission Deadline: Wednesday, February 2, Midnight
Notification: February 7
Agreement Due: February 16
Artwork Due: March 4
Artwork Drop Off Day: Friday, March 4, 1-5pm
Opening Reception: Friday, March 11 from 4/8pm
Exhibition dates: March 11 – April 8
Pick Up Day: Saturday, April 9, 1-5pm
Artwork Shipping Process: April 11 – 15
---
About:
3 Square Art's is a fine art gallery in Northern Colorado. The beautiful space and high ceilings provide the perfect venue for varying sizes of works and installations. The gallery is focused on the "S" component of CSL (Creating, Sharing, Learning) or Sharing and will feature exhibits from national and international artists. 3 Square Art's ongoing exhibits feature themed topics to push the boundaries and business of art as well as to have fun and connect with others.
3 Square Art
2415 Donella Ct Ste 110
Fort Collins, CO 80524
T: 970-581-9046
Apply for this Opportunity