This opportunity listing has expired and may no longer be relevant!
Compete

100 Square Inches of Art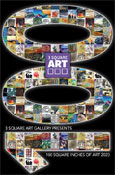 Opportunity Description
U.S. National Deadline: September 24, 2023 – 100 Square Inches of Art 2023 is back and pushes the creative powers of local and national artists to expressive their artistic vision inside of 100 square inches or less… no more. Art can be made into any form or shape as long as the total square inches used is equal to or less than 100 square inches (3D Artists get an extra 10 inches of depth for a total of 1000 cubic inches!). See color, see shape, see forms or figures, portraits or abstracts. All in a small form factor that is perfect for a holiday gift or a special addition to your personal art collection.
Thinking small encourages creative thinking and a sense of detail. How can working on a small scale help bring out your vision? How can a small art piece take on a large presence? How much art can an artist pack into a small space? Will the piece be 1" wide and 100" long, 10" x 10" or something else?
On display November 10 – December 23, 2023.
ELIGIBILITY
100 Square Inches of Art 3rd Annual Exhibition is open to artists who are at least 18 years old (by the time of entry) submitting original works of art created within the past 3 years.
Each artist may enter up to 5 artworks.
The competition welcomes all media, including painting, drawing, sculpture, photography, printmaking, textiles, and digital art.
Artworks must be recent; any artworks completed before September 18, 2020.
AWARDS & BENEFITS
Cash awards:

3SA Gold Award: $300 + Certification
3SA Silver Award: $150 + Certification
3SA Bronze Award: $50 + Certification
3 Honorable Mentions: Certification
3 Square Art Purchase Award
Selected artists for the exhibition receive the following benefits:
Juried Exhibit
Posting to 3SA website and social media platforms
Professional exhibition space and display of artwork
One of top galleries in Northern Colorado (great addition to resume)
Accepted artists will be listed on the 3SA website with their work and link to their website
ENTRY FEE
There is a nonrefundable entry fee of $42 for 1-3 artworks, $48 for 4 artworks, or $54 for 5 artworks.
APPLY ONLINE
Visit us for more information and easy online entry.
---
About:
3 Square Art's is a fine art gallery in Northern Colorado. The beautiful space and high ceilings provide the perfect venue for varying sizes of works and installations. The gallery is focused on the "S" component of CSL (Creating, Sharing, Learning) or Sharing and will feature exhibits from national and international artists. 3 Square Art's ongoing exhibits feature themed topics to push the boundaries and business of art as well as to have fun and connect with others.
3 Square Art
2415 Donella Ct Ste 110
Fort Collins, CO 80524
T: 970-581-9046
Apply for this Opportunity