Compete

CaRt22: Contemporary Art in Realism 2022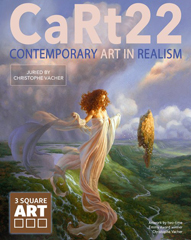 Opportunity Description
International Deadline: June 12, 2022 – In the 1950s, the dominant artistic movement was Abstract Expressionism, an anti-literal and anti-figuration movement that emphasized a burst of emotion, shape, and color on canvas as a visual metaphor for an artist's inner emotional state in regard to subject, circumstance or matter.
Never formally organized as a group or a movement, the Contemporary Realists were a close network of friendships and artistic associations surrounding the New York School, an informal group of American poets, painters, dancers, and musicians. This included Philip Pearlstein, Neil Welliver, William Bailey, Leland Bell, and Louisa Matthiasdottir, A number of Contemporary Realists, like Jack Beal, Nell Blaine, and Jane Freilicher began as noted Second Generation Abstract Expressionists, but by the mid-1950s were creating realist works. They began painting more traditional subjects like landscape, portraiture, domestic interiors, and still life, though with a contemporary awareness and technique influenced by various movements including the New York School's emphasis on capturing the everyday moment, and the color palette and line styles of their 19th-century artistic forefathers Pierre Bonnard and Edouard Vuillard.
Since the 1970s the term Contemporary Realism has been used generally for artists who practice realistic art with contemporary techniques. In a sense it established a foundation for artists who painted realistically to be viewed as contemporary and innovative. Many Contemporary Realists Lois Dodd, Alex Katz, and Philip Pearlstein are still active today, and their work continues to exert an influence.
Realism is very much alive and is gaining renewed traction with artists and collectors. Modern artists approach their subject in a realistic manner using contemporary and fresh techniques. Additionally, realism speaks to language that is universally understood and can be shared by everyone.
On display July 29, 2022 – September 2, 2022.
ELIGIBILITY
The CaRt22: Contemporary Art in Realism competition is open to artists who are at least 18 years old (by the time of entry) submitting original works of art created within the past 3 years.
Styles include: Figurative, Portraiture, Imaginative Realism, Landscape, Still Life, Plein Air Painting, and Animals. Traditional media only including painting, drawing, printmaking (drawing based), and sculpture. No photography or digital art.
Artworks must be recent; any artworks completed before July 12, 2019 will be disqualified.
JUROR
Christophe Vacher, two-time Emmy Award winner and Annie Award Nominee French artist.

AWARDS & BENEFITS
$700 in cash awards:

3SA Gold Award: $400 + Certification
3SA Silver Award: $2000 + Certification
3SA Bronze Award: $100 + Certification
First Honorable Mention Award: Certification
Selected artists for the exhibition receive the following benefits:
Juried Exhibit
Posting to 3SA website and social media platforms
Professional exhibition space and display of artwork
One of top galleries in Northern Colorado (great addition to resume)
Accepted artists will be listed on the 3SA website with their work and link to their website
Press releases on exhibition sent to 3SA media outlets
ENTRY FEE
There is a nonrefundable entry fee of $42 for 1-3 artworks, $48 for 4 artworks, or $54 for 5 artworks.
APPLY ONLINE
Visit us for more information and easy online entry.
---
About:
3 Square Art's is a fine art gallery in Northern Colorado. The beautiful space and high ceilings provide the perfect venue for varying sizes of works and installations. The gallery is focused on the "S" component of CSL (Creating, Sharing, Learning) or Sharing and will feature exhibits from national and international artists. 3 Square Art's ongoing exhibits feature themed topics to push the boundaries and business of art as well as to have fun and connect with others.
3 Square Art
2415 Donella Ct Ste 110
Fort Collins, CO 80524
T: 970-581-9046
Apply for this Opportunity