Compete

6th Annual Color 2023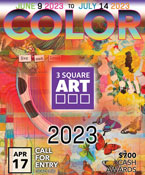 Opportunity Description
International Deadline: April 17, 2023 – Get ready for our most vibrant exhibit of the year! Pure and raw. Splashes of color, lines of colors, dabs of color, colored fabric, colored hair, color color COLOR! Throw yourself full force into the world of color and unleash your creativity! This exhibit is going to highlight color in every way. The 6th Annual COLOR Exhibit is here this 2023!
Color theory is taught in art foundation training. Remember the color wheel, primary colors, and secondary colors? And how they can play off each other. An entire generation of artists influenced by abstract expressionism created a movement called Color Field painting. This isn't the 50s and 60s when great artists like Mark Rothko, Joan Miro, Jackson Pollock, Helen Frankenthaler, Clyfford Stil roamed the streets of New York made their mark. However, we now have electronics, neon, LEDs, Post-It notes, computers, videos, markers, and an endless new array of other materials and tools to use. Experience what Artists can imagine when they get colorful!
On display June 9 – Friday, July 14, 2023.
ELIGIBILITY
The COLOR 2023: 6th Annual International Exhibition is open to artists who are at least 18 years old (by the time of entry) submitting original works of art created within the past 3 years.
The competition welcomes all media, including painting, drawing, sculpture, photography, printmaking, textiles, and digital art.
AWARDS & BENEFITS
$700 in cash awards:

3SA Gold Award: $400 + Certification
3SA Silver Award: $200 + Certification
3SA Bronze Award: $100 + Certification
First Honorable Mention Award: Certification
Selected artists for the exhibition receive the following benefits:
Juried Exhibit
Posting to 3SA website and social media platforms
Professional exhibition space and display of artwork
One of top galleries in Northern Colorado (great addition to resume)
Accepted artists will be listed on the 3SA website with their work and link to their website
Press releases on exhibition sent to 3SA media outlets
ENTRY FEE
There is a nonrefundable entry fee of $42 for 1-3 artworks, $48 for 4 artworks, or $54 for 5 artworks.
APPLY ONLINE
Visit us for more information and easy online entry.
DATES
Submission Deadline: Monday, April 17, 2023 at Midnight
Notification: May 4
Agreement Due: May 10
Artwork Due: On or before June 2
Artwork Drop Off Day: Friday, June 2, 1-4pm
Opening Reception: Friday, June 9 from 6-8pm
Exhibition Dates: June 9 – July 14
Pick Up Day: Saturday, July 15, 1-4pm
Artwork Shipping Process: July 18-21
---
About:
3 Square Art's is a fine art gallery in Northern Colorado. The beautiful space and high ceilings provide the perfect venue for varying sizes of works and installations. The gallery is focused on the "S" component of CSL (Creating, Sharing, Learning) or Sharing and will feature exhibits from national and international artists. 3 Square Art's ongoing exhibits feature themed topics to push the boundaries and business of art as well as to have fun and connect with others.
3 Square Art
2415 Donella Ct Ste 110
Fort Collins, CO 80524
T: 970-581-9046
Apply for this Opportunity