This opportunity listing has expired and may no longer be relevant!
Compete

Childhood Memories – Juried Call for Art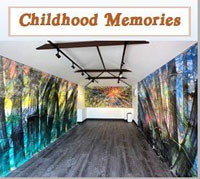 Opportunity Description
U.S. National Deadline: March 15, 2023– Mills Pond Gallery invites artists to submit works for a juried exhibition.
This call asks artists to explore childhood memories…the early rituals, the rites of passage, the innocence of early life experiences that celebrate the passionate world of childhood.
On display April 22 – May 20, 2023.
ELIGIBILITY
Open to all artists ages 21 and over and student artists currently enrolled in an M.F.A. program in the United States. Entries may not have been shown previously at Mills Pond Gallery. All work must be original and must have been completed in the last four years. No reproductions, giclees, manipulated photography, digital art, video. All works must be professionally presented and display-ready. Works must not exceed 60" in width or 84" height including mat and frame. Gallery Wrap, Museum Wrap Canvas or simple frames preferred. Work may not be withdrawn before May 20.
JUROR
Seung Lee is a Korean-American contemporary artist. He is currently Professor of Fine Arts at Long Island University, Post Campus. He received a BFA in Drawing from Maryland Institute College of Art in Baltimore, Maryland and an MFA in Painting from Pratt Institute in Brooklyn, New York.
His paintings, drawings, and large-scale installations have been exhibited extensively in the US as well as internationally: China, Italy, France, Japan, and Korea. He has received numerous reviews in the New York Times, Newsday, Kyoto Times, Korea Daily News and Art World , Art in Culture, Art Price, and Art and People Magazines… see more
AWARDS
Best in Show – $500
2nd Place – $300
3rd Place $100
APPLY ONLINE – Entry fee $45/3 images
See Prospectus
---
About:
Incorporated in 1972, Smithtown Township Arts Council (STAC) offers a unique combination of historical preservation, cultural promotion, and arts exhibition. The Council has been committed to the arts for forty-eight years, working to provide a creative outlet and the opportunity to experience, investigate, and discover contemporary art and cultural issues which are engaging and relevant to the public's daily lives and civic responsibilities. We believe the arts are indispensable in building good character in the citizens of our communities as they foster communication, offer new insights, and add to the greater appreciation of both life and society.
Mills Pond Gallery
660 Route 25A
Saint James, NY 11780
t: 631-862-6575
Smithtown Township Arts Council Inc. is a recognized 501 (c) (3) not-for-profit organization.
Apply for this Opportunity