This opportunity listing has expired and may no longer be relevant!
Compete

Celebrating Nature & Light with Watercolor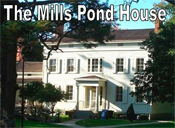 Opportunity Description
U.S. National Deadline: September 24, 2023– Mills Pond Gallery invites artists to submit works for a juried exhibition, 'Watercolor: Celebrating Nature & Light". All entries must be executed in watermedia: Watercolor, gouache are acceptable.
On display Oct. 28 – Dec. 9, 2023.
ELIGIBILITY
Open to all U.S. artists ages 21 and over. All entries must be executed in watermedia: Watercolor, gouache are acceptable. No water-soluble pastel, charcoal, ink, graphite, acrylic or oil paints or collage will be considered. Pencil used for preliminary sketching only-Pencil may not be used for shading of any kind.
All work must be original and must have been completed 2020-2023. No reproductions, giclees, photography, digital art, AI created art. All works must be professionally presented and display-ready. Works must not exceed 60" in width or 84" height including mat and frame. Gallery Wrap, Museum Wrap Canvas or simple frames preferred.
JUROR
Joel Popadics' paintings have been exhibited in solo and group exhibitions in galleries and museums across the United States, including the National Academy of Design in NYC; the San Francisco Academy of Art; Art of the Sea Galleries in Rockland, ME; the Place St. Charles Gallery in NO; and the Maritime Gallery at Mystic Seaport, Mystic, CT.
Mr. Popadics is the recipient of numerous national awards and has been featured many times in American Artist, The Artist Magazine, Watercolor Artists, and Watercolor Magic Magazines. His paintings are in public and private collections most notably, the Art for Healing Program at University Medical Center of Princeton at Plainsboro, NJ; the Hamilton House Museum in Clifton, NJ; The Ridgewood Art Institute Permanent Collection… see more

AWARDS
Best in Show – $600
2nd Place – $400
3rd Place $200
APPLY ONLINE – Entry fee $45/3 images
See Prospectus
---
About:
Incorporated in 1972, Smithtown Township Arts Council (STAC) offers a unique combination of historical preservation, cultural promotion, and arts exhibition. The Council has been committed to the arts for forty-eight years, working to provide a creative outlet and the opportunity to experience, investigate, and discover contemporary art and cultural issues which are engaging and relevant to the public's daily lives and civic responsibilities. We believe the arts are indispensable in building good character in the citizens of our communities as they foster communication, offer new insights, and add to the greater appreciation of both life and society.
Mills Pond Gallery
660 Route 25A
Saint James, NY 11780
t: 631-862-6575
Smithtown Township Arts Council Inc. is a recognized 501 (c) (3) not-for-profit organization.
Apply for this Opportunity