Compete

Mills Pond Gallery National Exhibition: Little Black Book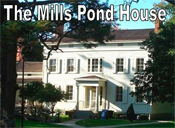 Opportunity Description
U.S. National Deadline: June 18, 2022 – Mills Pond Gallery invites artists to submit works for a juried fine art exhibition. Artists are invited to enter works that capture the spirit of their subject…the movement…the emotions…the stories. Whatever your subject, We are looking for works inspired by life…works that conjure narratives…take us to places we have never seen… or introduce us to people and places.
Exhibit Dates: July 23 – August 27, 2022.
ELIGIBILITY
Open to all artists ages 18 and over. The exhibition is open to 2D works created in gouache, watercolor, ink, acrylic, oil, colored pencil, charcoal or pastel. (sorry, no photography, 3D sculpture) Works in any style are welcome as long as they adhere to the theme.
Entries may not have been shown previously at Mills Pond Gallery. All work must be original and must have been completed in the last three years. No reproductions or giclees. All works must be professionally presented and display-ready. Display size (including frame) must not exceed 60" in width, 84" height including mat and frame. Gallery Wrap or Museum Wrap Canvas with clean or painted edges preferred. Work may not be withdrawn before August 27.
JUROR
Carol Fabricatore is an artist in the New York City area who is a great observer of all things and likes to approach creating narrative imagery beginning with an emotional connection to an idea. She often gravitates towards subject matter that might be seen in one's peripheral vision or passed by on the way to something in the mainstream. She has produced art for books, magazines, newspapers, and projects for design and advertising firms. She received her MFA from the School of Visual Arts in the MFA Illustration as Visual Essay Program and has taught narrative drawing in that program since 1994. Carol has had work in American Illustration, Communication Arts Illustration Annual, Society of Illustrators, Creative Quarterly and has won awards in the Society of Newspaper Design, The San Francisco Show – Gold winner, Graphic Design USA; Desi Award, Graphis; Top Ten Illustrated Annual Reports & Society of Illustrators Los Angeles among many others.
AWARDS
$1000 Best in Show, $800 Second Place, $400 Third Place.
In addition to exhibiting your final work in the gallery, we will
be adding images of your original artwork plans and sketches and statements about your work to exhibition binders in the gallery.
APPLY ONLINE – Entry fee $45/3 images
---
About:
Incorporated in 1972, Smithtown Township Arts Council (STAC) offers a unique combination of historical preservation, cultural promotion, and arts exhibition. The Council has been committed to the arts for forty-eight years, working to provide a creative outlet and the opportunity to experience, investigate, and discover contemporary art and cultural issues which are engaging and relevant to the public's daily lives and civic responsibilities. We believe the arts are indispensable in building good character in the citizens of our communities as they foster communication, offer new insights, and add to the greater appreciation of both life and society.
Smithtown Township Arts Council Inc. is a recognized 501 (c) (3) not-for-profit organization.
Mills Pond Gallery
Smithtown Township Arts Council
660 NY-25A
St James, NY 11780
t: 631-862-6575
Apply for this Opportunity