This opportunity listing has expired and may no longer be relevant!
Festivals

18th Indian Wells Arts Festival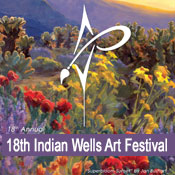 Opportunity Description
International Deadline: November 30, 2021 – The 18th Indian Wells Arts Festival, an International Palette! Join more than 10,000 art enthusiasts, collectors and serious buyers in attendance, April 1, 2 & 3, 2022, at one of the most pristine venues in the beautiful Palm Springs Desert Resorts area, the Indian Wells Tennis Garden, home to the BNP Paribas Tennis Tournament, Indian Wells, California.
Celebrating its 18th year of success, artists travel from across the nation and around the world each year to showcase their museum-quality contemporary and traditional fine art. A total of 200 artists are selected to participate by jury, with the 2022 Indian Wells Arts Festival's Primary Jury deadline set for November 30th, 2021, and 50 places held for the Secondary Jury deadline of January 10th, 2022.
ELIGIBILITY
Open to all media artists, 15+ mediums and categories are judged for awards in painting, drawing, 2D and 3D mixed media, printmaking, photography and other 2 dimensional as well as sculpture, jewelry, hand-woven textile or fiber, non-functional, utilitarian, and wearable-art.
BENEFITS & SALES
Reported sales of $750,000 in 2019 are fostered by the festival's established reputation for fine and high-quality art, and robust advertising campaign
Ranked a Top 100 in the Nation Best Fine Art Show of the Decade by Sunshine Artist
"Best of the Best" by Palm Springs Life Magazine
#3 So-Cal Getaway by the Examiner
Privately gated venue with 24-hour security and unparalleled state-of-the-art facilities which include on-call booth sitters, free Wi-Fi internet access, and luxury on-site restrooms
WHAT TO EXPECT IN 2022
On-going artist promotion through artist spotlights across all IWAF social media and podcasts, and IWAF features, all at no additional cost to the artists
Robust $75K advertising campaign with strong public relations, print including major periodical such as LA Times and luxury lifestyle publications, and broadcast media coverage; digital and electronic marketing with geo-fencing, social media campaigns and media partnerships; local and select major-market editorials and press releases
Top professionals from the staging, interior design and realty businesses along with elite media and influencers invited as VIPs
Easy artist Check-in and Express Check-out
Real-time show updates and communications via text message
Complimentary artist hospitality with fresh snacks and beverages
Live jazz and entertainment ambiance
Guests are greeted as VIPs with free and valet parking available, event programs, and free 'be-back' passes
Interactive activities and artist demonstrations
Local charities incorporated as Festival Partners
Champagne Circle Bar and Oasis Bar service, and full-menu restaurants in the shaded courtyard pavilion
FEES
Booth Fees affordably range from $300 for a 10′ by 10′ single space and $600 for a 10′ by 20′ double space, with electricity optional at an additional fee.
APPLY ONLINE
Visit for more information or to apply now!
DEADLINES
Artist Deadline to Apply Primary Jury: November 30, 2021 ($35 Jury Fee)
Notification of Applicant Status in Primary Jury: December 6, 2021 (by post mail)
Artist Deadline to Apply Second Jury: January 10. 2022 ($50 Jury Fee; 50 spaces reserved for this deadline)
Notification of Applicant Status for Second Jury: January 31, 2022 (by post mail)
Indian Wells Art Festival
78200 Miles Ave
Indian Wells, CA 92210
Apply for this Opportunity