This opportunity listing has expired and may no longer be relevant!
RFP/Q's

Creative Placemaking Program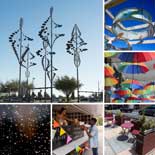 Opportunity Description
International Deadline: April 8, 2021 – The City of Sugar Land is requesting artists or artist teams to submit a statement of qualifications, a letter of interest, and other materials for the commission of projects through the Creative Placemaking Program, #AllInForSLTX, with a specific goal to aid local small businesses.
The goal of the Creative Placemaking Program is to increase resiliency for small businesses impacted by the COVID-19 pandemic and provide local residents with vibrant and creative spaces that encourage patronage.
There is no specific theme for this opportunity, however, designs that reflect the history and culture of the City of Sugar Land are highly encouraged.
ELIGIBILITY
Artists 18 years of age or older are invited to submit an individual or collaborative artist application. Sugar Land is accepting proposals from independent artists and artistic teams from anywhere in the world and will select one or more projects to commission for the City.
Examples of project submissions include sun shelters, parklets, projections, outdoor light installations and concepts that permit businesses to extend their reach to outdoor spaces.
BUDGET
The budget for each piece, including materials, artist fees and transportation, may range from $15,000 to $150,000 depending on the size and complexity of the work.
APPLY ONLINE – No Fee
Project submissions must be submitted through the online application by 11:59pm MST on April 8, 2021.
---
Apply for this Opportunity