Compete

Global Healthcare Illustration Awards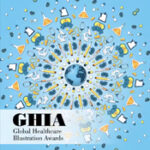 Opportunity Description
International Deadline: August 15, 2022 – Association of Illustrators in partnership with Eradigm Consulting is pleased to announce the launch of the first annual Global Healthcare Illustration Awards (GHIA). The GHIA competition seeks to attract and celebrate the best healthcare related images created by illustrators the world over, providing greater exposure for those who bring key topics relating to our ever-changing healthcare landscape to life.
ELIGIBILITY
The Award invites entries from emerging and established illustrators from around the world in all and any topics related to healthcare including:
food and nutrition
drug addiction
infection diseases
mental health
disability
exercise and sport
digital health
pharmaceutical innovation
disease prevention
sexual and reproductive health
water and sanitation
healthcare delivery
The aim of GHIA is to capture and celebrate all and any contributions made by the illustration community to all of those matters that relate to the promotion and preservation of life across our global communities.
AWARDS
The judging panel will create a shortlist of 50 entries from which 3 prizes: Bronze (£1000), Silver (£,2000) and Gold (£3,000) will be awarded and which will be exhibited at Eradigm Consulting's London headquarters.
APPLY ONLINE – No Fee
---
About:
The Association of Illustrators is the professional body for illustration in the UK. Established in 1973, the AOI champions illustrators and the illustration industry with education, promotion and campaigning to achieve a thriving industry for us all.
Somerset House
Strand, London
WC2R 1LA, UK
Apply for this Opportunity