This opportunity listing has expired and may no longer be relevant!
Compete

Art for Change Prize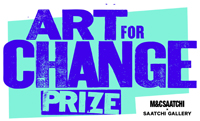 Opportunity Description
International Deadline: July 31, 2023 – Global creative company, M&C Saatchi Group and London's iconic Saatchi Gallery have launched a international art initiative – the annual Art for Change Prize. This year's prize invites emerging artists from around the world to creatively respond to the theme of 'Regeneration'.
THEME: Regeneration:
There is no art on a dead planet
The world is reacting to the rising drumbeat of climate chaos. The issues of climate justice, social justice, and economics are now inseparable, but there are reasons to be hopeful. Climate change is finally sinking in. Citizens are demanding change. Nations, cities, communities and corporations are stepping up.
This year's prize brings with it the opportunity to create new stories of a liveable future and motivate people to do what it takes to be a driving force for the change we need. We have the opportunity to change this to a story that inspires and empowers.
Now is the time for action. Now is the time for meaningful change.
ELIGIBILITY CRITERIA
The prize is available to emerging artists based in the following M&C Saatchi key global regions: UK, Europe, Americas, Asia, Australia, and Middle East & Africa.
To apply artists must be aged 18 or over and within the first five years of what they hope to be a successful artistic career.
Accepted media includes painting, drawing, illustration, photography, collage, 2D mixed-media, video or film.
Submitted works must creatively respond to the theme 'Regeneration' and have been executed since 1 January 2020.
Works must be stable and capable of being shipped and installed on a walled surface.
Submitted works must be available between 1 October 2023 and 31 January 2024 for an exhibition in London.
One application per artist is permitted with a maximum of five artworks accepted.
Artists may only enter the prize in the region associated with their country of residence.
The artwork(s) must be the participants own work(s) and the participant warrants that they have full title to the artwork(s) and that they have all rights to submit the artwork(s).
JURY
Our six winners will be decided by some of the best business and creative minds from M&C Saatchi Group globally and eminent guest judges.
AWARDS
A total prize fund of £20,000 will be split between six regional winners, five to receive £2,000 each and one overall winner to receive £10,000.
All artists will exhibit their winning works in a dedicated exhibition at Saatchi Gallery in London, a recognised authority in contemporary art, where the overall winner will be announced at the end of November 2023. The exhibition will open to the public on Wednesday 22 November 2023 until Friday 12 January 2024
APPLY ONLINE – No Fee
---
About:
M&C Saatchi Group is a creative company that connects specialist expertise, fuelled by data and technology, to help clients Navigate, Create and Lead Meaningful Change. The Group operates across five core divisions: Connected Creativity; Passion Marketing; Global & Social Issues; Brand, Experience & Innovation; and Performance Media. Headquartered in London, operations span 23 countries with major hubs in the UK, Europe, Middle East & Africa, Asia and Australia.
About:
The Saatchi Gallery is a London gallery for contemporary art and an independent charity opened by Charles Saatchi in 1985.
Duke of York's HQ
King's Rd, London SW3 4RY
United Kingdom
Apply for this Opportunity