This opportunity listing has expired and may no longer be relevant!
Ezine/Print

Artistonish Magazine 27th Issue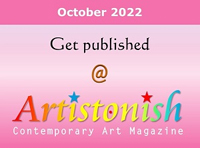 Opportunity Description
International Deadline: October 2, 2022 – Artistonish invites visual artists working in any medium to submit their original art for getting published in the magazine's 27th issue in October 2022.
Artistonish is an international contemporary art magazine published by Discover the Artist media holding. The magazine benefits from global coverage and publicity via an international art publication network.
Each magazine issue presents significant artworks created by brilliant artists from all around the world.
Both online and high-quality versions of the magazine will be released in full-color glossy A4 pages and are accessible by thousands of art experts, collectors, curators, and art enthusiasts, as well as museums and galleries from over 120 countries. To learn about previous issues, please visit us online.
All artists will receive digital certificates, social media artwork badges, readers ratings and comments, and analytic reports.
Moreover, each artwork image will be showcased lively on a separate stylish colorful glossy A4-sized page, including artwork data, artist name and photo, and a lifetime active link to the online artist page using a scannable QR code to boost artist's online visibility and SEO.
ELIGIBILITY
This media publication opportunity is open to all visual artists worldwide creating original artworks in 2 and 3-dimensional media. Artworks must be entirely the work of the entrant, executed without the supervision of an instructor. Artworks are preferred to be created within the past 5 years. There is no size limit for submitted artwork.
AWARDS
Publication – Selected artworks will be published in the October 2022 issue of the Artistonish contemporary art magazine. The online magazine is available for free, while the print can be ordered via print-on-demand services.
Participant artworks will have a chance to be selected for another issue of the magazine in future.
Promotional Badges – A digital promotional badge for each artwork will be sent to each artist to share in the social media.
Artist Profile Page – Each artist receives a free online profile page in Biafarin platform.
Certificate – A digital certificate will be issued for all participants and selected artists. Each artist can print the digital certificate from Biafarin platform, after the submission is complete.
ENTRY FEE
There is no submission fee for this artist call. Only selected artists will pay a selection fee of USD 45. Maximum 2 artworks will be selected per invited artist.
APPLY ONLINE
Visit us online for more details and easy online Application.
---

About – Artistonish is a contemporary art magazine published by "Discover the Artist" media holding. Each issue of the magazine focuses on telling the compelling story of significant arts created by brilliant artists from all around the world. The publications are available to thousands of art lovers, experts, collectors and enthusiasts in both digital and print format and reaches people in over 100 countries. The online version of the magazine is published and circulated globally, while the print magazine can be ordered online and via our platform directly.
Apply for this Opportunity