This opportunity listing has expired and may no longer be relevant!
Compete

Real or Imagined: A National Juried Exhibition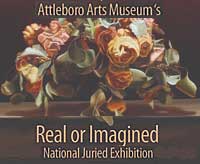 Opportunity Description
U.S. National Deadline: April 23, 2020 – Highly regarded Attleboro Arts Museum announces an open call for artists for its upcoming national juried exhibition, "Real or Imagined".
Spotlight the authentic or explore the unreal. Consider depicting a representational still life or a surrealist scene, capture the phenomenon of phantom pain or visually share a ghost story. Real or Imagined can tackle the World Wrestling Foundation, true love, historical fiction, Santa Claus, the Emperor's new clothes, 2020's excruciating twists and turns …
In-gallery exhibition on view from June 16th–July 15th, 2021.
CASH AWARDS
Six cash prizes will be awarded.

ELIGIBILITY
All mediums and interpretations of Real or Imagined from US artists will be juried. There is no size limitation per entry, however all submissions (both 2D & 3D) cannot weigh over 100 lbs. each. Work must not have been previously exhibited at the Attleboro Arts Museum (AAM).
PRESENTATION
All accepted work must be framed, gallery-wrapped or finished on the edges and ready to hang at delivery with a sturdy wire hanging system. Download 'Exhibitions & Events/Framing Guidelines' for details (see online Prospectus).
ENTRY FEE
$18 covers payment for up to two entries for Museum members
$25 covers up to two entries for non-members.
APPLY ONLINE
Visit us for complete details and to apply online.
All artists will receive notification of the juror's decision sent to the email address that they have provided by Wednesday, May 19th at 7 pm, MT.
SALES
All art sales are subject to the Museum's commission of 30% for Museum members, 40% for non-members. Work does not need to be for sale.
---
About:
Housing one of the largest gallery spaces between Boston and Providence, the Attleboro Arts Museum has evolved from its modest, grassroots beginnings, into an impressive, robust and dynamic arts organization, serving as a cultural anchor for the revitalization of the City of Attleboro.
The Museum continually refreshes exhibitions, and prominently displays the works of both promising and professional artists, in 3,500 square feet of gallery space, which also features 14-foot ceilings and moveable gallery walls.
Attleboro Arts Museum
86 Park Street
Attleboro, MA 02703
---
Apply for this Opportunity