Compete

2023 National Juried Show Theme: USED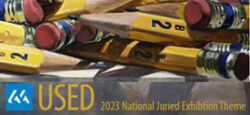 Opportunity Description
U.S. National Deadline: April 23, 2023 -The Attleboro Arts Museum invites all U.S. artists to submit interpretations of "USED." Open to all mediums, sizes and concepts. For instance: "I only read used books; she used me and broke my heart; that high-rise apartment used to be a lush garden; used clothing shops are my go-to; I've gotten used to their dry humor."
Consider creating with re-purposed materials; depicting well-loved toys; representing cherished antiques; something borrowed; other.
On display June 16th–July 14th, 2023.
ELIGIBILITY
All mediums and interpretations of USED from U.S. artists will be juried.
There is no size limitation per entry, however all submissions cannot weigh over 100 lbs each.
Work must not have been previously exhibited at the Attleboro Arts Museum (AAM) at any time.
Artists can submit 2D, 3D, installation, audio/video work. If selected, all tech, accessories and specialized hardware must be supplied (monitors, projectors, cables, etc.) along with a detailed diagram for installation.
PRESENTATION
All accepted work must be framed, gallery-wrapped or finished on the edges and ready to hang at delivery with a sturdy wire hanging system. See the Museum's Framing Guidelines .pdf for details.
We strongly recommend neutral frames and white or off-white mats.
Any pieces that do not match the juror's decision, or are not the piece that was accepted, will not be installed and be returned COD.
AWARDS
Six prizes of $100 each will be awarded.
ENTRY FEE
$18 covers payment for up to two pieces for Museum members; $25 covers up to two pieces for non-members.
APPLY ONLINE (scroll  down to bottom of page for Application link)
Each artist may submit up to two different entries.
Entries that are emailed or hand-delivered will not be accepted.
All artists will receive notification of the juror's decision sent to the email address that they have provided by Thursday, May 18th at 7 PM, MT.
---
About:
Housing one of the largest gallery spaces between Boston and Providence, the Attleboro Arts Museum has evolved from its modest, grassroots beginnings, into an impressive, robust and dynamic arts organization, serving as a cultural anchor for the revitalization of the City of Attleboro.
The Museum continually refreshes exhibitions, and prominently displays the works of both promising and professional artists, in 3,500 square feet of gallery space, which also features 14-foot ceilings and moveable gallery walls.
Attleboro Arts Museum
86 Park Street
Attleboro, MA 02703
Apply for this Opportunity