This opportunity listing has expired and may no longer be relevant!
Festivals

Beverly Hills Art Show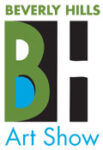 Opportunity Description
International Deadline: July 28, 2023  – The Beverly Hills Art Show announces a call to artists. This fun, festive, but serious fair attracts visitors and patrons from throughout Southern California and the nation, as well as from around the world, and is known as a wonderful place to buy art. Artists are recruited nationally.
This is the show's 50th anniversary! Accordingly, the October 21-22, 2023 event will include additional activities and happenings to celebrate the show's long, successful history, which has been vigorously supported by the Beverly Hills community.
Selected artists will exhibit in historic Beverly Gardens Park along four famous blocks in the center of Beverly Hills, ideally located between a beautiful, busy neighborhood and the Golden Triangle business district, well-known for its deluxe restaurants, top-end designer stores, and important galleries.
CATEGORIES
Eleven fine art and craft categories are featured, with an emphasis on fine art. New artists are frequently accepted and highlighted, as staff seeks fresh work and perspectives. ALL artwork must fit the criteria for one of the categories. Download Prospectus for details.
AWARDS
The following awards will be presented at the show:
– 1st, 2nd, 3rd in all categories.
– Best of Show
– Most Original
– Best Display of Art
– Best New Artist
– Mayor's Purchase
Artwork is judged Saturday between 11:00 am and 4:00 pm. Names of award winners will be posted next to the Main Information Booth, and awards will be announced during the artists' reception.
FEES
Application $55. The acceptance/booth fee is $415.
APPLY ONLINE
See Complete Prospectus
Visit us online to see last years artists work.
Apply for this Opportunity