Festivals

Beverly Hills Art Show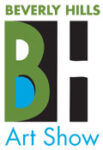 Opportunity Description
International Deadline: August 15, 2022  – The City of Beverly Hills warmly welcomes fine artists to apply to the October 15 & 16, 2022 Beverly Hills Art Show held in the beautiful setting of Beverly Gardens Park. This show has grown to become one of the largest and most respected outdoor shows on the west coast, attracting not only the finest artists in Los Angeles, but globally as well!
Eleven fine art and craft categories are featured, with an emphasis on fine art. New artists are frequently accepted and highlighted, as staff seeks fresh work and perspectives.
CATEGORIES
ALL artwork must fit the criteria for one of the categories. Download Prospectus of details.
AWARDS
The following awards will be presented at the show:
1st, 2nd, 3rd and two Honorable Mentions in most categories.
Best of Show
Most Original
Best Display of Art
Best Art in a Special Feature
Best New Artist
FEES
The early application fee is $35.00 if you apply by August 8th. There is a late application fee of $55.00 if you apply between August 8th & 15th. The acceptance fee is $415.00.
APPLY ONLINE
Visit us for complete details.
Apply for this Opportunity