Compete

Biafarin Awards 2022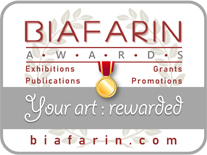 Opportunity Description
International Deadline: October 9, 2022 – Biafarin proudly presents Biafarin Awards 2022; an annual international art awards with cash grants and prizes, open to visual artists working in any medium worldwide.
Now, in its second year, and with more than USD $10,000 in cash grants and valuable prizes, Biafarin awards provides an exceptional opportunity to artists, emerging or experienced, to get noticed by art experts, collectors, and art enthusiasts worldwide.
The award intends to reward artists' efforts to elevate awareness and justice and keep hope, peace, and happiness alive via their art in this challenging time.
ELIGIBILITY
Participating in this opportunity is open to all visual artists worldwide. All art media including drawing, painting, printmaking, photography, digital art, fiber art, sculpture, mixed media, etc. are accepted. All styles are welcome, there is no size limit for submitted artworks. Artworks must be entirely the work of the artist, executed without the supervision of an instructor.
AWARDS
Submit to Biafarin Awards to gain global exposure and win USD $10,000 in cash and prizes, plus:


Cash Grants – USD $3000 for 3 artists (each USD 1000).

Annual Artist Promotion Gold Package – 3 Artists will be selected for Biafarin annual gold art promotion package.

Annual Artist Promotion Blue Package – 3 Artists will be selected for Biafarin annual blue art promotion package.

Publication – All selected artists will be published in a special edition of The Book of Arts series. The online version of the book will be available for free, while the high-quality print can be ordered via print-on-demand services. The book will be promoted and distributed globally, becoming available to thousands of readers, including experts, galleries, curators, businesses, and art enthusiasts, via popular publication gateways.

Group Exhibition – Selected artworks will be showcased in an international smart online group exhibition. All selected artworks will be exhibited online for 1 month from November 15 to December 15, 2022.

Artwork Sales – Selected artworks will be promoted to sell via an online exhibition link.

Exhibition Catalogue – All selected artworks and artists will be published in a stylish colorful catalogue available online. The catalogue will remain available online in Biafarin platform and will be promoted internationally and circulated and available to thousands of viewers via popular publication gateways.

Promotional Badges – A digital promotional badge for each artwork will be sent to each artist to share in the social media.

Certificate – A digital certificate will be issued and sent to all selected artists.
ENTRY FEE 
Submission is free and a fixed fee applies to selected artists only. We invite you to submit up to 5 artworks to gain global exposure and win prizes for this unique art opportunity.
APPLY ONLINE
Visit us for complete details and to apply. Also see last years exhibition.
---
About Biafarin
Biafarin is an all-in-one art marketing online platform developed by Canadian art organization, Biafarin Inc., which supports artists and art businesses from more than 120 countries to promote and sell their art worldwide.
For about a decade, Biafarin technology has empowered artists and enriched the visual experience of exhibition visitors, magazine readers and art experts by providing art exhibition and publication platforms for artists, organizers and publishers. Moreover, Biafarin has been a long-time sponsor of popular local and international art events.
Apply for this Opportunity