This opportunity listing has expired and may no longer be relevant!
Ezine/Print

Bitch Magazine Call for Writers & Illustrators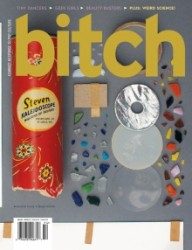 Opportunity Description
International Deadline: Ongoing – Bitch Media is a nonprofit feminist media organization best known for publishing the magazine Bitch: Feminist Response to Pop Culture. Bitch Media's mission is to provide and encourage an engaged, thoughtful feminist response to mainstream media and popular culture. We seek to be a fresh, revitalizing voice in contemporary feminism, one that welcomes complex arguments and refuses to ignore the contradictory and often uncomfortable realities of life in an unequivocally gendered world.
ONLINE WRITERS GUIDELINES
We accept online pitches on a rolling basis. Click below to view open calls and submit your pitches through our submission manager. Due to the volume of pitches we receive, we are unable to respond to every pitch and will only respond to the pitches that we accept. Apply Online.
ILLUSTRATOR GUIDELINES
We're always looking for new illustrators to work with. We commission people with various styles appropriate for each individual article. Payment varies (existing work vs. commission-based) but is generally between $300 and $600 for magazine features, $200 and $400 for spot illustrations, and $600 for a photo essay.
We do commission online illustrations, infographics, and comics too, though less frequently. Payment starts at $150 for online images.
If interested in general illustration for Bitch, please send your portfolio link and any specific suggestions (style, topic) for artwork directly to design@b-word.org. Email is preferred, but you can also send mail (no originals, please!) to:
Bitch Media
401 NE 19th Ave. Suite 200
Portland, OR 97232
While we may not be able to respond to every general submission, we'll keep your work on file if submitted by email or by post.
---
About:
Since 1996, Bitch: Feminist Response to Pop Culture, has provided smart, witty, and thought-provoking commentary on and analysis of TV, film, music, advertising, books, and more. Each issue of Bitch offers a whip-smart collection of critical essays, thoughtful reported pieces, incisive reviews, and interviews with feminist artists, thinkers, culture-makers, and activists—a mix that readers simply won't find anywhere else. In addition to a readership of 80,000 that loves having Bitch in their lives, the magazine has also received critical acclaim from other media outlets.
Bitch: Feminist Response to Pop Culture
4930 NE 29th Avenue
Portland, OR 97211
By Phone: (503) 282-5699
Apply for this Opportunity