This opportunity listing has expired and may no longer be relevant!
Art Calls

Open Call: Vogue | 4th Edition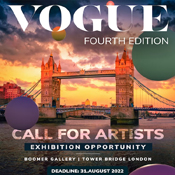 Opportunity Description
International Deadline: August 31, 2022 – The aim of this exhibition is to see how contemporary artists respond to contemporary world and to connect them and their work with an wider audience.
What is the right approach to contemporary art when there is so much going on?
There is so much going on in art right now that we often feel confused and we ask ourselves- why is a certain artist successful and I'm not?
Well, nobody has a straight forward answer for this question but if we get a closer look at the very successful artists we often see a pattern, they tend to get inspired from each other, they follow the VOGUE.
ELIGIBILITY
Open to artists worldwide, everyone is welcome to apply. There are no subject or medium restrictions, everyone is welcomed to apply.
Eligible media but not limited: painting | sculpture | photography | digital art | Installation | video | prints | textile | ceramics | illustrations | etc.
VENUE
This Exhibition will take place at our space In Tower Bridge London.  The space is located in one of most iconic places in the world and the most visited place in the whole UK.
SUBMISSION FEE
To make a submission is absolutely free but we do charge a £165 fee for each participating artist as we only charge 15% sales commission and that includes:
printed catalogs | printed posters | printed brochures | admin | graphic designer | champagne | caviar | professional photographer | hostess | security | bartender | printing and framing for the artists who opt for that.
SUBMISSION GUIDELINES
Visit us online for complete details.
DATES
the open call will run until the 31st of August 2022.
artworks delivery date is the 8th of September 2022.
the exhibition will run from the 9th of September until the 14th of September with a private view on the 9th of September- 6:00 to 9:00 pm at our gallery space in Tower Bridge London.
---
About:
Boomer is a London based art gallery created by a group of British artists and art enthusiasts who aim to transcend the gap between culture and countries, highlight the best hidden gems out there and push the boundaries forward".
Our gallery space is situated right in the heart of artistic London | Aldgate. A cosmopolitan place where great artists like Francis Bacon and Freddy Mercury use to work and hang out, here the art vibe is on every corner, on every building, on every face, on every smile.
3-15 Whitechapel Rd
London E1 1DU, Unit 308
---

ATTENTION! ARTDEADLINE.COM IS CELEBRATING ITS 29TH YEAR OF QUALITY CONTENT
Join the 1000's of Emerging and Professional Artists today for real-time access to quality and exclusive content on the largest database of its kind.
OUR ANNIVERSARY CELEBRATION SUBSCRIPTION RATES START AT ONLY $8.00 (USD) / YR!!
Click here to Subscribe. Hurry as our anniversary special rate will end soon.
Apply for this Opportunity