This opportunity listing has expired and may no longer be relevant!
Art Calls

What Is Art? | 6th Edition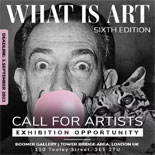 Opportunity Description
International Deadline: September 3, 2023 – What is art in the 21st century? What Makes It Valuable?
The discourse on the nature of art in the 21st century has never been more intriguing. While some creators remain firmly rooted in the traditions of their craft, others boldly venture into uncharted territories, invoking a constant debate around the central question – What Is Art? What makes it valuable?
JURORS
Art' is not an easily defined concept. This is why we've invited two of the world's leading art experts to share their insights at the opening event of this exhibition on the 8th of September:
Yuxi Wang, International Project Director from Shanghai Himalayas Museum.
A highly respected art critic and historian, Anthony Fawcett, from Oxford University. is renowned for his collaborations with iconic artists such as Man Ray, John Lennon, Yoko Ono, and Andy Warhol. His significant contributions to the "Anthony Fawcett Archive" project with the Tate Gallery further enhance his status. His insights into "What Is Art?" are sure to be invaluable.
ELIGIBILITY
Open to artists worldwide, everyone is welcome to apply. While there are no restrictions on the subject matter of your work. Eligible media include, but are not limited to, paintings, sculptures, photography, installations, prints, textiles, illustrations, digital art, poems, etc.
VENUE
This exhibition is designed not merely to showcase art but to stimulate conversation between divergent paths within contemporary art. The aim is to prove that success in the art world is not a monolithic concept but a spectrum of possibilities, each as valid and valuable as the next.
Our gallery is located in the vibrant heart of the iconic Tower Bridge area in London. An elegant blend of historical richness and modern energy, our space serves as an extraordinary platform for artists and audiences alike.
SUBMISSION FEE & BENEFITS
Submission is absolutely free, however, we invite each artist to contribute a £165 participation fee, which includes:
Printed catalogs, posters, and brochures
Admin support
Graphic designer services
Champagne & caviar at the opening event
Professional photography to document the event
Hostess, security, and bartender services at the opening
Printing and framing for the artists who opt for that (printing and framing is included in the price).
SUBMISSION GUIDELINES
Visit us online for complete details. Entry is by email.
SALES
Our sales commission remains a modest 15%.
---
About:
Boomer is a London based art gallery created by a group of British artists and art enthusiasts who aim to transcend the gap between culture and countries, highlight the best hidden gems out there and push the boundaries forward".
Our gallery space is situated right in the heart of artistic London | Aldgate. A cosmopolitan place where great artists like Francis Bacon and Freddy Mercury use to work and hang out, here the art vibe is on every corner, on every building, on every face, on every smile.
150 Tooley Street
London SE1 2TU
Apply for this Opportunity