Ezine/Print

Boomer Magazine Open Call: Identity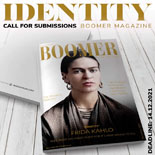 Opportunity Description
International Deadline: December 14, 2021 – How do we build identity in art and most importantly how do we make ourselves accepted? Being an artist was never easy and most of the times especially in the emerging period things are really hard and complicated.
One of the most complicated aspects is being accepted exactly as we are and for the things we stand for, for example our Art and our true self. The whole idea of identity and acceptance might not sound like a big deal but is the fundamental base for everything that humankind stands for, especially in art.
More than sixty seven years have passed since her death but Frida still continues to empower generations of artists to accept themselves and share their identities and their art with the world.
The purpose of this publication is to inspire artists to accept themselves and their art without being forced into the stereotypical theatre that our society plays with.
THEME
The theme for the third edition of our magazine is "IDENTITY" and leading on the cover is a true icon, someone that has inspired millions around the world not just in art but on all social levels, Frida Kahlo.
ELIGIBILITY
Open to artists worldwide, everyone is welcome to apply. There are no subject or medium restrictions, everyone is welcomed to apply.
Eligible media but not limited: painting | sculpture | photography | digital art | Installation | video | prints | textile | ceramics | illustrations | etc.
VENUES
Where will be published?
* Google books.
* Issuu.
* Yumpu.
* Our Website
The printed version will be available for a whole year period in our gallery space from Tower Bridge London. The gallery space is nestled between modern and classic London icons: The Shard 4 minutes away, Tower Bridge 1 minute away, London Bridge 2 minutes away.
With constant exhibitions programme and all kind of artistic projects, we get an average of over 800 visitors every month.
SUBMISSION FEE
To make a submission is absolutely free but we do charge a £59 fee for each accepted submission.
SUBMISSION GUIDELINES
Visit us online for complete details.
DATES
the open call will run until December 14.
the publication on all the mentioned platforms will be made on December 27.
on December 28 all the participants will get an email with all the links where the magazine will be published.
the printed version will be available in our galleries in Central London and to order via our website starting with December 29.
---
About:
Boomer is a London based art gallery created by a group of British artists and art enthusiasts who aim to transcend the gap between culture and countries, highlight the best hidden gems out there and push the boundaries forward".
Our gallery space is situated right in the heart of artistic London | Aldgate. A cosmopolitan place where great artists like Francis Bacon and Freddy Mercury use to work and hang out, here the art vibe is on every corner, on every building, on every face, on every smile.
3-15 Whitechapel Rd
London E1 1DU, Unit 308
Apply for this Opportunity