Compete

Burger King For Good Art Prize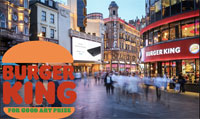 Opportunity Description
International Deadline: January 31, 2022 – Looking for a unique opportunity to showcase your work publicly and reach a wider audience?
Burger King UK is calling all London-based artists to submit their entries to the brand new Burger King For Good Art Prize. For the duration of one year, eight lucky artists will receive the opportunity to showcase their artwork on the walls of our flagship restaurant in Leicester Square, which welcomes visitors from all around the world! The winner, alongside seven other finalists, may also be featured on our website and published across our online social media channels, reaching a massive three million+ audience.
ELIGIBILITY
The competition is open to all. We welcome participation from anyone who lives in London, over 18 years of age, and would like to share their visual art: professional artists, amateurs, students or simply those who want to give it a go and get creative!
Entries can be in any 2-dimensional medium in any painting, drawing, print, photographic or graphic media.
PRIZE DETAILS AND REWARDS
Exposure:
Opportunity for you to raise your artist profile and reach a wider audience.
Leicester Square is one of Burger King UK's busiest and most prominent restaurants attracting visitors from all around the world. Exposure in a high-visibility location. Leicester Square is known throughout the world as the beating heart of London's West End. The square and surrounding area welcome over 2.5 million visitors each week.
Publicity and Promotion:
Prize-winning artworks may also be promoted on Burger King UK's social media platforms and gain visibility through BK official communication channels.
Exhibition Space for your artwork:
Unique opportunity to exhibit your work in an alternative venue. We will exhibit all selected works for a period of 1 year. We will present works with the artist's name and title of work.
APPLY ONLINE – No Entry Fee
All submissions must be made online using our submission system.
To apply – Review the Submission Guidelines and Terms and Conditions for entry. When you are happy that you are able to fulfil what is needed to enter, please complete our online entry form before the deadline.
Apply for this Opportunity