Internet

Chateau Gallery International Exhibition: Vices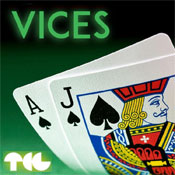 Opportunity Description
International Deadline: October 15, 2023 – Vices is an exhibition exploring behaviors and concepts associated with immortality. This questioning could lead to insightful discussions about cultural differences, personal beliefs, and the evolving nature of morality.
Vices delves into cultural, historical, and ethical dimensions of immoral behaviors, encouraging discussions that transcend boundaries, challenge biases, and contribute to a more nuanced understanding of human values and ethics. Examples include but certainly aren't limited to blasphemy, corruption, drinking, drugs, gambling, gluttony, greed, and promiscuity.
Exhibition Date: November 1 – September 1, 2023.
ELIGIBILITY
Vices is an international juried group exhibition open to artists ages 18 and older. All forms of two-dimensional, traditional, and non-conventional art media (e.g., digital and film photography, video, oil painting, watercolor, acrylic, mixed media, collage, drawing media such as graphite, charcoal, pencils, pen and ink, arts and crafts, etc.) are welcome for submission.
AWARDS
Curator's Choice, Director's Choice, and three Honorable Mentions will be awarded and featured in the online gallery. Curators Choice and Directors Choice are invited to submit three free entries into three calls for entry of their choice. Honorable Mention recipients are will receive one free entry into one call for entry of their choice.
ENTRY FEE
There is a non-refundable $20 entry fee used to support the exhibition, promotional materials, and scheduled programming.
APPLY ONLINE
Juror Notifications: October 25, 2023.
SALES
Participants who have priced their work for sale will be contacted promptly regarding any purchase inquiry of their work. Participants will retain 70% from sales. TCG will retain 30% commission on any work sold through TCG and its agents.
---
About:
Established in 2019 in the heart of Old Louisville's Historic Preservation District, The Chateau Gallery is a contemporary art gallery with a narrative as captivating as the artwork housed within its walls. The original structure, built on the tailwind of the Southern Exhibition, is one of the first Gilded Age mansions erected on Third Street's "Millionaire's Row."
For over a century, the nearly 6000 square-foot monolith served as a tobacco baron's estate, a funeral parlor, an accredited barber college, a "cocaine dealer's palace," a law office, and a childcare center. Today, The Chateau Gallery is both antique and avant-garde, occupying a time and place between the old and the new. One would certainly be hard-pressed to find this happening anywhere else.
The Chateau Gallery
1230 South 3rd Street
Louisville, KY, 40203
Apply for this Opportunity