This opportunity listing has expired and may no longer be relevant!
Compete

Exhibizone 2022 Grand Prize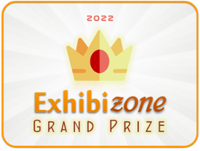 Opportunity Description
International Deadline: August 12, 2022 – Win Cash Grants, Enhance your Career, Showcase and Publish your Art Globally.
In the spirit of empowering visual artists to showcase their prominent arts worldwide and boost their global exposure, Exhibizone Grand Prize (EGP), with more than USD 10,000 in value of cash prizes and awards, provides a unique opportunity for all artists.
ELIGIBILITY
Open to all visual artists working in any medium worldwide. This includes Painting, drawing, illustration, printmaking, photography, digital arts, fiber art, textile arts, sculpture, installations, and mixed media. All styles are welcome. There is no size limit for submitted artworks.
AWARDS

Cash Grant Prize
USD 2,000 unrestricted cash grants to 3 artists, divided into:
– USD 1,000 for 1 artist
– USD 500 for 2 artists
Cash grant winners will be announced in November 2022.

Public choice Award
USD 1,000 for 10 artists (Each USD 100) who made to the top 10 ranking of the exhibition.

Group Exhibition
Selected artworks will be showcased in an international online group exhibition. All selected artworks will be exhibited online from September 01, 2022 to October 31, 2022 for 2 whole months.

Artwork Sales
Selected artworks will be promoted to sell via an online exhibition link. Moreover, they will be placed in an online Biafarin partner art gallery in France for the duration of the exhibition.

7 Artist Promotion Packages
PLUS, Exhibition Catalogue; Exhibition Poster; Promotional Badges; Artwork Reviews; Exhibition Promotion; Reports, Analytics and Insights; Publication; Artist Profile Page; Certificates; and more
ENTRY FEE
Artists are invited to submit up to 10 pieces of their original artworks. Submission is free and a fixed small fee applies to selected artists only.
APPLY ONLINE
Visit us online for more details and easy online Application.
---
About Exhibizone
As an art exhibition house, Exhibizone has become an international destination zone for visual artists to exhibit their art efficiently via one-of-a-kind smart online shows. Each exhibition targets specific segments of visitors and provides online sales features, news circulation, social media badges, catalogues, and exhibition posters to maximize the art exposure for participant artists.
About Biafarin
Biafarin is a Canadian registered artist management company, supporting artists from 100+ countries to promote and sell their art effectively. Exhibizone uses Biafarin technology platform to deliver the smart online group exhibitions to visual artists worldwide.
Biafarin is the sponsor of Public Choice cash prizes to winners and guarantees the delivery of service by Exhibizone.
Apply for this Opportunity