This opportunity listing has expired and may no longer be relevant!
Residency

Fire Island Artist Residency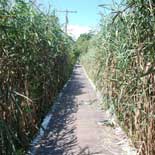 Opportunity Description
International Deadline: April 15, 2023 – Celebrating its thirteenth season on Fire Island in Cherry Grove, New York, Fire Island Artist Residency (FIAR) is now accepting applications for its prestigious and internationally recognized summer residency program for emerging visual artists identifying as lesbian, gay, bisexual, transgender, non-binary, intersex, two spirit or queer.
The 2023 residency cycle will feature a cohort of six jury-selected visual art residents in the historically queer island hamlet of Cherry Grove, NY for a four-week residency marked by intimate studio visits with, and public lectures by, renowned leaders in contemporary art, curation, activism and scholarship. The greater Fire Island community, and visitors from New York and Long Island, are invited to attend free public programs by esteemed guests of FIAR.
ELIGIBILITY
LGBTQIA+ emerging visual artists demonstrating new perspectives in contemporary visual art are encouraged to apply.
APPLICATION
The 2022 Summer Residency dates are July 9th – August 4th, 2022.
SUPPORTED
The program is free to residents, who are provided with an honorarium, stipends for meals and travel, and a free, modest live/work space.
APPLY ONLINE – $40 Application
---
About:
Founded in 2011, Fire Island Artist Residency (FIAR) is a 501(c)3 nonprofit organization which brings lesbian, gay, bisexual, transgender and queer emerging artists and poets to Fire Island, a place long-steeped in LGBTQ history, to create, commune, and contribute to the location's rich artistic history. FIAR is made possible through the generous support of Sikkema Jenkins & Co., New York, The Arts Project of Cherry Grove, The New York State Council for the Arts, Between Bridges Foundation, Callen-Lorde, the William E. and Maude S. Pritchard Charitable Trust, and the incredible generosity of individual donors.
Apply for this Opportunity