This opportunity listing has expired and may no longer be relevant!
Interns

FWCAC Programming & Exhibition Internships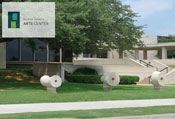 Opportunity Description
U.S. National Deadline: Open Until Filled – Located in the heart of Fort Worth's Cultural District, the Fort Worth Community Arts Center is a longstanding venue known for hosting diverse events, visual arts galleries, and theatre performances. Currently, the Arts Center is seeking an energetic, driven, and computer savvy intern for the upcoming academic semester.
INTERNSHIP SUMMARY
This internship is a good steppingstone into the field of arts administration where one will have the opportunity to engage closely with the community and a range of special projects. The Programs and Exhibitions intern will work under the direct supervision of the Arts Center's Programs and Exhibition Manager. The intern's responsibilities will include the installation/de-installation of our galleries, updating various websites and media postings, assistance in the creation of gallery contracts, and working with the Arts Center's artists and guests.
While the Programming and Exhibition internship will focus on these key areas, it is important to Arts Fort Worth that each intern has the opportunity to experience all of facets of an arts nonprofit, and this position will also shadow other Arts Council employees during the three-month period.

QUALIFICATIONS
Poised and professional demeanor
Detail-oriented with organizational skills
Strong computer skills including Microsoft Word, Excel, and Outlook
Basic computer design skills, familiarity with Adobe Photoshop and Illustrator is preferred
Excellent written and speaking communication skills
Ability to multi-task, work under pressure and meet required deadlines
​APPLICATION PROCESS
To apply, please attach to an e-mail a cover letter and CV/resume. Send all documents to nlopez@artscouncilfw.org. Also, please let us know that you saw this announcement on "ArtDeadline.Com".
---
About:
Located at 1300 Gendy Street, the FWCAC is part of the most architecturally significant museum districts in the United States. The striking modern Herbert Bayer building (with a later O'Neil Ford addition) opened to the public in 1954 as home to one of the most prestigious and oldest collecting organizations in the state of Texas, the Modern Museum of Fort Worth. When, in 2002, the Modern moved down the street, the Fort Worth Community Arts Center opened. The building has exhibited world class art and supported the performing arts for more than half a century. The Arts Council manages the FWCAC, provides leadership and funding to local arts organizations through our competitive Grants Program and administers the Fort Worth Public Art program.
Fort Worth Community Arts Center
1300 Gendy Street
Fort Worth, Texas 76107
t: 817-738-1938
Apply for this Opportunity