Art Calls

Gallerium Art Prize: Emotions 2022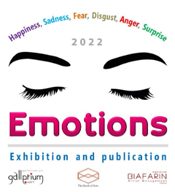 Opportunity Description
International Deadline: June 2, 2022 – Gallerium proudly invites talented artists to submit their art for 'Emotions 2022', exhibition and publication.
As emotions are the keystone to experiencing art, we invite you to express your artistic world of human emotions and feelings for Emotions 2022 dual opportunity of exhibition and publication.
The selected artworks will be published in The Book of Art publication and showcased in an international online exhibition by Gallerium.
THEME
Eckman listed the basic six types of human emotions as: Happiness, Sadness, Fear, Disgust, Anger, Surprise.
These emotions are just a glimpse of the various types of emotions that we are capable of experiencing. In time, the research and theories have explored more types of emotions and identified:
Love, Affection, Longing, Amusement, Contempt, Contentment, Embarrassment, Guilt, Shame, Excitement, Pride, Satisfaction, Relief, caring, compassion, tenderness, etc.
And the list expanded more, as a recent study by the Greater Good Science Center suggested that there are at least 27 distinct emotions, all of which are highly interconnected.
ELIGIBILITY
This dual opportunity is open to all artists creating original artworks in 2 and 3-dimensional media. All styles are accepted. Any abstract or representational interpretations of the subject are welcome.
Painting, drawing, illustration, printmaking, photography, digital art, fiber art, sculpture and mixed media are accepted.  There is no size limit for submitted artworks.
AWARDS
Selected artworks will be showcased in a smart international online group exhibition organized by Gallerium.
Moreover, the selected artworks will get published in The Book of Arts: Emotions.
Other awards include artwork social media badges, visitors' comments and ratings, digital certificates, and informative artwork popularity reports… more
ENTRY FEE
Submission is free, and a small selection fee applies to selected artists only. Artists can submit up to 5 pieces of original artworks in relation to the subject.
APPLY ONLINE
Visit us for more details and to Apply.
---
About Gallerium:
Gallerium art exhibitions are intended to create equal showcasing opportunities for prominent visual artists worldwide. Art improves people's lives, and showcasing art is our way of playing our part toward a better world. In this way, Gallerium utilizes Biafarin exhibition platform to boost the benefits of the exhibitions.
It is always free to submit your art in our competitions, while only selected artists need to pay a small selection fee. Each one of Gallerium shows focus on a unique subject. International artists are encouraged to express their artistic interpretation of the subject for an opportunity to be selected for exhibition.
About The Book of Arts
The Book of Arts is a series of contemporary art books published by "Discover the Artist" media holding and Art Publications Network. The mission is to publish prominent arts from artists with various cultures and nationalities via several editions each year. Each edition focuses on a specific subject to make a visual story of modern and contemporary art in the art world.
The publications are available to hundreds of thousands of art experts, collectors, and enthusiasts in digital and print format and reach people in over 100 countries.
The online version of the book will be published and circulated globally, while the high-quality print version can be ordered online and via our platform directly.
Apply for this Opportunity