Festivals

Inverness Festival of the Arts 2021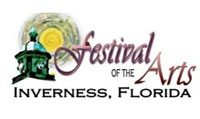 Opportunity Description
International Deadline: July 29, 2021 – We invite you to apply to the 2021 Inverness Festival of the Arts, a fine art show, held in downtown Inverness, FL on Nov. 20-21, 2021!
The 2021 Inverness Festival of the Arts, a fine art show, is returning to downtown this year to Celebrate the 50th Anniversary! The Festival of the Arts is the longest-running juried art festival in Citrus County, FL. Since 1971, it has been a beacon of fine arts in the area and today the festival brings thousands to downtown Inverness. This two-day festival is a signature event for the city and brings fine artists to historic downtown for visitors to explore and shop. We invite you to attend this year's art festival, which is free and open to the public.
ELIGIBILITY
Open to artists worldwide. All work on display must be 5 years old or less (created since 2016.) All work on display must be available for sale. All work must be original, handcrafted work.
MULTIPLE CATEGORIES (see Prospectus)
AWARDS
2021 Awards Program – $8,500 In Awards!
$2,500.00 – Best in Show
$1,000.00 – Judges' Award
$3,000.00 – 6 Awards of Distinction of $500.00 each
$2,000 in Purchase Awards
Awards are given at the discretion of the Festival Judges.
FEES
$25 Application Fee
Booth Fee: $200.00
APPLY ONLINE
You can submit up to 4 applications in separate categories for this festival.
DATES
Application Deadline: July 29, 2021
Notification Date: August 27, 2021
Booth Fee Deadline: September 10, 2021
Booth fees paid after September 10th will have an additional processing fee of $50.00
Apply for this Opportunity