Compete

Third Coast National Biennial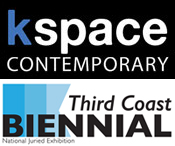 Opportunity Description
U.S. National Deadline: June 1, 2022 – K Space Contemporary announces a call for entries for the Third Coast Biennial, a non-thematic, juried exhibition of innovative contemporary art from all over the USA.
Third Coast National Biennial is a prestigious juried exhibition of new works of art from all over the USA. Third Coast National was the first exhibition in K Space Contemporary's new street level gallery when it opened in 2007. For the first ten years, it was an annual event. In 2016, Third Coast National became a biennial exhibition held in even numbered years.
ELIGIBILITY
Open to artists age 18+ living in the USA. Entries must be original works of art completed in the last 2 years and not previously exhibited at K Space.
All visual art forms and media are acceptable. Artists must be available to install complicated works. Artists must exhibit original works if accepted; we do not exhibit reproductions/copies of original paintings, drawings, etc. Accepted video works will be shown via DVD on a 42" flat screen television, unless artist provides other means.
JUROR
Mark Lesly Smith, PhD, is the owner and operator of Mark Smith Studio Gallery in Johnson City, Texas. A former art department chairman and an associate dean, he is a member of the Austin Arts Hall of Fame, the co-founder of Flatbed Press in Austin, and co-author of Flatbed Press at 25, published in 2016 by U.T. Press. He is also a practicing artist— concentrating on collage and calligraphy—and will be exhibiting his Hope Suite prints at the Neil-Cochran House Museum in Austin, June 2-September 30. He is also an art advisor to the Lyndon B. Johnson National Historical Park's Cabinet Oak Project, and developer of the park's upcoming artist residency program. He was included in the 2018 Third Coast Biennial, and his solo show of his Hope Suite at K Space was in 2019.
AWARDS
$2500 in cash awards for five places. Honorable Mentions are given at juror's discretion.
ENTRY FEE
$40/non-members ($35/members) for 1 to 3 works of art. Each additional entry is $5.
SALES
All works must be For Sale. KSC collects payment and retains 40% commission.
DATES
June 1: Entry Deadline
June 17: Artists Notified by Email
July 8: Selected works must be delivered to K Space Contemporary
June 29 – July 8: Receiving Hand-Delivered works, and shipped works must arrive between these dates.
Hand Deliver during regular hours: Wed – Sat. 11 am – 5 pm, Sun. 12 – 4 pm.
July 15– August 26: Exhibition Dates
July 15 (Friday), 6:00 – 8:00 pm: Exhibition Opening, Gallery Talk by Juror
August 5, 5:30 to 9 pm: ArtWalk Reception
August 27-28, 11am to 5 pm: Pick Up Hand-Delivered works
August 30: Begin returning shipped works
---
About:
K Space Contemporary is a 501(c)3, non-profit organization dedicated to presenting and promoting contemporary art. As a forum for creative exchange and experimentation, we aspire to educate and build awareness for innovative art in South Texas. K Space Contemporary is located in downtown Corpus Christi, Texas. K Space Contemporary is the oldest alternative art space in the Coastal Bend region. A primary goal of the organization is to exhibit emerging and mid-career artists.
K Space Contemporary
415D Starr St.
Corpus Christi, TX 78401
Tel: 361.887.6834
Apply for this Opportunity