This opportunity listing has expired and may no longer be relevant!
Compete

Loewe Foundation Craft Prize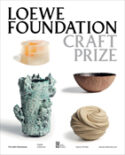 Opportunity Description
International Deadline: October 25, 2022 – The Loewe Foundation launches the sixth edition of the Loewe Foundation Craft Prize, an international award celebrating excellence in craftsmanship.
The Loewe Foundation seeks to recognize uniquely talented artisans whose artistic vision and will to innovate set new standards for the future of craft.
ELIGIBILITY
All participants must be professional artisans of 18 years or older at the time of the submission of entries.
Entries may be made by an individual or collective (as a 'group submission'). Businesses and mercantile companies of any kind are excluded. All nationalities are welcome.
Each participant can present either one single piece of work or one series of works, understood as a number of objects considered as a single artistic creation (henceforth, 'the Work'). This should fall within an area of the applied arts and, as a guide, within the following categories: ceramics, bookbinding,
enamelwork, jewellery, lacquer, metal, furniture, leather, textiles, glass, wood, paper, etc.
Materials and products outside the categories listed are not excluded; they may be accepted by the Experts Panel if they comply with the aim and requirements of the competition. Dangerous, prohibited or alive materials are excluded.
All Works must:
Be owned by the participant, at all times, since its creation until the end of the License period,
Be an original one-off piece, handmade or partly handmade by the participant,
Have been recently created (in the last five years),
Have won no prizes previously,
Be innovative, in the sense that it updates tradition,
Demonstrate artistic intent,
Be able to travel and be installed by Loewe and/or The Loewe Foundation.
These conditions are essential for the Works to be admitted as Finalists. See more details
JURY
The Jury for this call will be made up of:
Jonathan Anderson, Loewe Creative Director.
Naoto Fukasawa, designer and Director of the Japan Folk Crafts Museum, Tokyo.
Olivier Gabet, Director of the Art Department at the Louvre Museum, Paris.
Dahye Jeong, winner of the Loewe Foundation Craft Prize fifth edition.
Hongnam Kim, Former Director of the National Museum of Korea, Seoul.
Enrique Loewe, Loewe Foundation Honorary President.
Magdalene Odundo, ceramist.
Wang Shu, architect and Pritzker Prize winner.
Deyan Sudjic, essayist and Director Emeritus of the Design Museum, London.
Benedetta Tagliabue, architect and RIBA Stirling Prize winner.
Abraham Thomas, Curator of Modern Architecture, Design and Decorative Arts at he Metropolitan Museum of Art, New York.
Patricia Urquiola, architect and industrial designer.
Anatxu Zabalbeascoa (Chairwoman), architecture and design correspondent for El País
AWARDS
The Prize for the winning piece of work is fifty thousand euros (50,000 euros). The winning entry can be made up of either one single piece of work or one series of works.
The Prize for the works awarded with a Special Mention is five thousand euros (5,000 euros), regardless of the number of Special Mentions granted.
The works created by the Winner and Finalists will be included in the exhibition 'LOEWE FOUNDATION Craft Prize 2023' (herein after 'the Exhibition') and its accompanying catalogue, on view in New York in the spring of 2023 or any other location that LOEWE FOUNDATION may deem appropriate.
Download and Read the Rules of Entry and make sure you comply with all requirements. All participants must be professional artisans 18 years or older.
APPLY ONLINE – No Fee
---
About:
The Loewe Foundation was established as a private cultural Foundation in 1988 by Enrique Loewe Lynch, a fourth-generation member of LOEWE's founding family. Today, under the direction of his daughter Sheila Loewe, the Foundation continues to promote creativity, support educational programmes and safeguard heritage in the fields of poetry, dance, photography, art and craft. The Foundation was awarded the Gold Medal for Merit in the Fine Arts, the highest honour granted by the Spanish Government, in 2002.
One of the primary purposes for which the LOEWE FOUNDATION was established was to support design and craftsmanship.
---

 ATTENTION ARTISTS! ARTDEADLINE.COM IS CELEBRATING 29 YEARS OF QUALITY CONTENT
Join the 1000's of Emerging and Professional Artists today for real-time access to quality and exclusive content on the largest database of its kind.
OUR ANNIVERSARY CELEBRATION SUBSCRIPTION RATES START AT ONLY $8.00 (USD) / YR!!
Click here to Subscribe. Hurry as our anniversary special rate will end soon.
Apply for this Opportunity