Compete

2023 Tennessee Collegiate Art Competition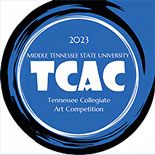 Opportunity Description
U.S. Multi-State Deadline: January 9, 2023 – An art exhibition for all community college, college, and university students within Tennessee, Southern Kentucky, and Northern Alabama.
ELIGIBILITY
Four-year college and university students (undergraduate and graduate) who are/were enrolled within the last 12 months in a degree-granting program in Tennessee or TCAC's list of eligible schools from Northern Alabama or Southern Kentucky are eligible to enter the competition. Students are not required to be art majors. However, all submitted work must be created during the student's enrollment at the eligible school.
This exhibit of student work—and completed within the last 12 months. Works should be of a dimension that will allow for proper handling and display by Todd Art Gallery. (No work may exceed 6 feet in any direction and 200 pounds in weight)
CATEGORIES
Clay Arts, Computer Imagery, Drawing, Fiber Arts, Glass Arts, Graphic Design, Metal Arts, Mixed Media, Painting, Photography, Printmaking, Sculpture, Time Based Media
JURY
Thomas Sturgill, Master of Fine Arts (M.F.A.) Carnegie Mellon University, Pittsburg, and Belmont University, Assistant Professor of Sculpture and 3D.
Steve Ward, Master of Fine Arts (M.F.A.) Southern Illinois University at Carbondale, and Middle Tennessee Painter and Collage artist.
APPLY ONLINE – $10 Entry
Visit us online for complete details and easy online application.
SALES
Sales of accepted entries will be encouraged. Todd Art Gallery will retain a commission of 20 percent.
---
About:
Middle Tennessee State University is a public university in Murfreesboro, Tennessee. Founded in 1911 as a normal school, the university consists of eight undergraduate colleges as well as a college of graduate studies, together offering more than 300 degree programs through more than 35 departments.
1301 E Main St
Murfreesboro, TN 37132
Apply for this Opportunity