This opportunity listing has expired and may no longer be relevant!
Residency

9-Month Paid Teaching/Studio Residency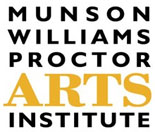 Opportunity Description
International Deadline: March 20, 2023 – The Munson-Williams-Proctor Arts Institute Artists-in-Residence program (AIR) is an education-based residency that allows one to two emerging artists to live, work, and teach on the Munson-Williams and PrattMWP College of Art & Design campus in Utica, New York for one academic year.
The AIR program is designed for emerging artists or recent visual arts MFA graduates interested in working in art education in community arts and college curricula while receiving support to develop a vibrant, self-directed studio practice. A successful AIR applicant works in PAINTING and/or DRAWING within the traditional and/or expanded field. A mastery of 2D foundation principles is desired.
Programming includes presenting a public lecture, teaching community arts education classes, holding a public open studio event, and designing and implementing accessible community projects with various departments on campus. Artists receive financial support, housing, meals, studio, and an exhibition in the Museum of Art.
THE RESIDENCY
A successful AIR applicant works in PAINTING and/or DRAWING within the traditional and/or expanded field. A mastery of 2D foundation principles is desired.
Residency is nine months, August 14, 2023 through May 14, 2024.
Call for artists rotates through disciplines each academic year.
One artist is in residence for the 2023/24 academic year.
SUPPORT
Artists receive two stipend payments of $1,250, one in September and one in January for a total of $2,500.
Residency includes paid fall and spring semester non-credit teaching opportunities in the + + Community Arts Education program; and paidPrattMWP College of Art and Design teaching opportunities** (Courses may include the following areas: 2D Foundations, Drawing, Painting, or Illustration.)
Residency includes a fall artist talk, winter open studio, spring Museum of Art solo exhibition, and promotion for these events
Artists have access to a private studio with 24/7 access.
Artist is provided with a furnished private apartment in the heart of the Munson-Williams campus.
Residency includes a dining hall meal plan. (19 meals per week while college program is in session)
APPLY ONLINE – $10 Application Fee
Visit us for complete details and to Apply Online.
Questions? Contact ataylor@mwpai.edu
---
About:
Munson-Williams-Proctor Arts Institute (Munson-Williams) is an internationally prominent fine arts center serving diverse audiences through three program divisions – Museum of Art, School of Art and Design, and Performing Arts. The Institute was founded in 1919 and provides some 600 events annually with more than 180,000 patrons enjoying the many exhibitions, performances, art classes, and family-oriented activities.
The Museum of Art is renowned for its art collection and Phillip Johnson designed building. Munson-Williams' Performing Arts offers wide-ranging, year-round programming of artistically excellent and diverse arts and cinema presentations.
The School of Art and Design offers a large community arts education program in art and the nationally accredited college art program affiliated with Pratt Institute (PrattMWP). PrattMWP is accredited by the National Association of Schools of Art and Design, Middle States Association, and the New York State Education Department. PrattMWP students spend the first two years of their bachelor of fine arts degree program at our campus in Utica, New York before they complete their studies at Pratt's main campus in Brooklyn.
Munson-Williams is located in the heart of New York State, foothills of the Adirondack Mountains and centrally located with easy travel to Cooperstown, Albany, Syracuse and a few hours from Boston, NYC, Lake Placid, and Montreal.
Munson-Williams-Proctor Arts Institute
310 Genesee Street
Utica, New York 13502
(315) 797-0000
Apply for this Opportunity