This opportunity listing has expired and may no longer be relevant!
Art Calls

MvVO Art /Ad Art Show 2022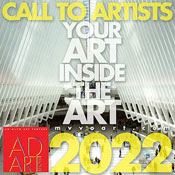 Opportunity Description
International Deadline: February 14, 2022 – Here is your opportunity to show your Art at the iconic Oculus at Westfield World Trade Center downtown New York. Your Art will also be seen by our Art selection committee and the finalists will be presenting to renown collectors.
AD ART SHOW 2022 will exhibit artworks—paintings, sculpture, photography, and mixed media works—on the monumental, high-impact digital advertising screens, The Westfield Network, at the Oculus Westfield World Trade Center, New York City from May 1 to May 31, 2022.
ELIGIBILITY
Open to artists worldwide. We accept artists who have a background in advertising or related fields.
The show is digital so we accept 300 dpi photos of your Art and there is no need to travel. You could be anywhere in the world and your Art will be shown and seen in New York city all of May 2022.
APPLY ONLINE
Please see our selection criteria on our application via our website. Winners get prizes, press and recognition. Fortune favors the BOLD! give it a try!! Looking for the next big names in Art.
Also see last years exhibited artists on our website.
---
About:
Ad Art Show is a groundbreaking and well-received art exhibition, launched at Sotheby's NYC, now in its fourth year. Ad Art Show continues to draw interest from all corners of the art world, where a growing number recognize the vast contribution to fine art from those who got their start in advertising. Think Warhol and Rosenquist for instance.
Apply for this Opportunity