This opportunity listing has expired and may no longer be relevant!
Internet

National Collage Society 37th Annual Juried Exhibit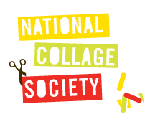 Opportunity Description
International Deadline: September 3, 2021 – Due to the pandemic and the difficulties of the USPS, the National Collage Society will be hosting it's 37th Annual Juried Exhibit online. There are many benefits to this type of exhibit. Anyone can view the exhibit, there are no shipping costs and no commissions.
Exhibit Dates: October 15, 2021 to December 31, 2021
AWARDS
There will be two types of awards–cash and materials. Award winners will be chosen by the Awards Judge after the show is opened in October. All collages receiving awards will be posted as such on the website.
ELIGIBILITY
This exhibition is open to all artists
Work produced in a classroom or under instruction is not eligible.
All works must be ORIGINAL, two or three dimensional, mixed-media glued collage. All work must be well photographed. Work not suitably photographed will be declined by the jury.
Collages that have been in any previous NCS juried shows are not eligible
JURY OF SELECTION
A jury of selection will review all entries and may choose one or two per eligible artist. Notification of the jury's decisions will be sent via email in late September. Please make sure to provide a valid email address to receive your jury results. Mailed entries (CDs and slides) will not be returned.
FEES
The entry fee for the Juried exhibit is $50.00. If you are already a member and have paid your yearly membership fee then the entry fee is $15.00.
SALES
NCS will contact artists regarding sales inquiries.
---
About:
The National Collage Society, Inc. (NCS, Inc.) is an art foundation formed to foster the appreciation and interest in the art medium of collage. Collage as an art form has only been identified during the 20th century. The NCS, Inc. promotes the advancement of collage as a major art medium and assists in the education of the public through exhibits, workshops, lectures and publications.
National Collage Society, Inc.
254 West Streetsboro Street
Hudson, Ohio 44236
330.656.3673
Apply for this Opportunity