This opportunity listing has expired and may no longer be relevant!
Internet

November PleinAir Salon $50,000 Art Competition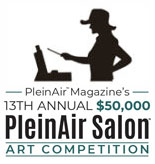 Opportunity Description
International Deadline: November 30, 2023 – In the spirit of the French Salon created by the Academie des Beaux-Arts in Paris, PleinAir magazine presents the 13th Annual PleinAir Salon Art Competition. Designed to stimulate artistic growth through competition, artists can earn cash prizes on a monthly and annual basis, as well as exposure of their work across multiple venues.
Because this competition is created by PleinAir magazine, which features not only plein air paintings, but also studio paintings, all types of paintings are eligible and do not need to have been completed in plein air. Our interest is in rewarding great paintings.
ELIGIBILITY
Competition is open to residents of any state or country where acceptable by law. All individuals entering must be at least 18 years of age to accept cash prizes.
BENEFITS & AWARDS
The PleinAir Salon $50,000 Art Competition is a monthly online competition consisting of 19 categories.
Monthly Awards
$25,800 in Cash Prizes:
First Place Overall – $600
Second Place Overall – $300
Third Place Overall – $200
People's Choice Award – $100
Category Awards – $50 (each category)
Annual Awards
$24,200 in Cash Prizes:
First Place Overall – $15,000 + the cover of PleinAir Magazine
Second Place Overall – $3,000
Third Place Overall – $2,000
People's Choice Award – $500
Honorable Mentions (3) – $700
Best Medium (4) – $400
The Annual Awards will be presented live at the Plein Air Convention & Expo in May 2024… plus much more
PRESTIGOUS JURORS
The November 2023 Judge is Skip Whitcomb.
Mood and feeling are more important with Whitcomb than visual reference, though all of his landscapes he paints are compelling places," says one museum curator. "The detail of the physical world is subdued in response to the spiritual one." Whitcomb says, "Once you internalize the language of painting you see the world differently. It never leaves you. The veil of rational order is lifted and what hangs in the air are sensations of painted possibilities. On good days, some would call it poetry."
An accomplished outdoor painter, Whitcomb has received numerous awards for his landscape paintings in oil and pastel, his work resides in major public and private collections… see more

Past judges include persons such as Kevin Macpherson, Peggy Immel, Diane Waterhouse, Waterhouse Gallery Owner; Mr. Jean Stern, Director Emeritus, The Irvine Museum; Scott A. Shields, Associate Director and Chief Curator at the Crocker Art Museum, and many more.
ENTRY FEE
See low early bird entry fees… Visit us for details.
APPLY ONLINE
Visit us online for more details and easy online application. Enter as many paintings as you would like, in as many categories as you would like — paintings do not need to be recent or currently in your possession.
Also see our past past monthly and Grand Prize winners on our website.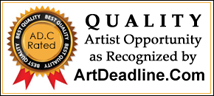 ---
About:
Published bi-monthly, PleinAir Magazine™ is focused on landscape paintings by historical and contemporary artists, art collections, events, and the process of creating plein air paintings. Beautifully designed with rich reproductions on high-quality paper, PleinAir features the top artists and artworks from around the world.
Apply for this Opportunity