This opportunity listing has expired and may no longer be relevant!
Portfolio

SJU University Galleries Exhibitions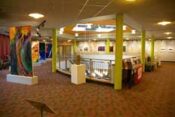 Opportunity Description
U.S. National Deadline: Annual Recurring January 31 – Through the promotion of the visual arts, the University Gallery educates and serves the University's students, faculty and staff, as well as the diverse communities of the surrounding tri-state area. We host seven shows from September through August. The first six feature professional artists.
We consider work in all media and all subject matter.
OPEN CALL FOR ARTISTS
The Merion Hall Gallery hosts six professional artist exhibitions each school year. We consider work in all media and all subject matter. If you would like to be considered for a show, please submit the below materials via our online form.
Ten JPEGS. No more than five detail shots. Title each file with your last name followed by the number in which you wish your images to be viewed. For example: Smith1, Smith2, Smith3, etc. No PowerPoint presentations.
Image list with numbers that correspond with your JPEGS. Include title, size, medium and year.
Resume with a mailing address, email address, and phone number.
Artist's statement.
The deadline for submission is January 31 for the following school year schedule. The Exhibitions Committee reviews the work and the artists are notified by the end of March.  Chosen artists are responsible for shipping/transporting their work to and from the gallery.
Saint Joseph's University
University Galleries
5600 City Avenue
Philadelphia, PA 19131-1395
Attn: Open Call
---
Apply for this Opportunity