This opportunity listing has expired and may no longer be relevant!
Residency

Sulfur Studios On::View Artist Residency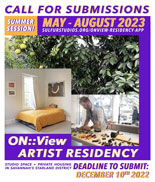 Opportunity Description
International Deadline: December 10, 2022 –  Savannah, Georgia's Sulfur Studios announces its ON::VIEW Artist Residency is now accepting applications. The Residency supports artists from across the globe, working in all media, with Studio, Housing and Exhibition opportunities provided.
Located in the heart of Savannah's Starland District at Sulfur Studios, the ON::VIEW Artist Residency provides a free, high visibility studio space for an artist to complete a focused project. The studio's large windows look out onto Bull Street, the district's main thoroughfare, allowing the artists' work to be on view to the community at all times. Sulfur Studios' visitors and passersby on the sidewalk witness the artists' process as it unfolds in real time, seeing all the steps involved from concept to final execution. Community events like workshops, performances, public art projects and artist talks, offer creative ways to interact with the public.
RESIDENCY DETAILS
Located just off the lobby in Sulfur Studios, the Residency Studio is 12 x 12 feet with large street level, east facing windows, which allow the community to view the Residents' work 24/7. Artists may work in any medium suitable for the space.
Successful applicants will propose a project that will engage the community over the course of the Residency period. While the standard Residency period is approximately one month in duration, artists may propose longer projects. If a longer period is proposed, artists must explain how they will use the additional time and must be available for a Zoom interview to discuss their proposal and provide a minimum of 2 references.
Artists will have multiple opportunities to meet and connect with the local art community, and our On::Call for ON::View list of Savannah experts provides unique one-on-one access to some of the city's most knowledgeable and esteemed citizens specializing in Savannah history, art, activism, music and more, in support of Residents' research and to provide additional avenues of community support during the Residency period.
All ON::View Residents will do an Instagram Takeover for the duration of their Residency, sharing their process via @onviewresidency
All ON::View Residents will have the opportunity to participate in an annual group exhibition featuring all of the Residents of the last year. The exhibition will take place in January, 2024.
The ON::View Studio provides 24 hour access to Residents. Additionally, Residents must commit to working in the studio during our public open hours a minimum of one day per week.
Residents must be present during the First Friday Open Studios event which will fall near the end of their Residency period (see specific dates below).
Residents are encouraged to engage the community by giving a public lecture or workshop, or other interactive event during their stay.
Artists coming from out of town must cover their own travel costs. We are excited to offer lodging for accepted Residents at the 5th Dimension Apartment, located 5 blocks east of Sulfur Studios.
ACCOMMODATION DETAILS
The 5th Dimension Apartment is located 5 blocks east of Sulfur Studios. It has a private gated entrance and private garden. It has a small but full kitchen with sink, 4-burner electric stove, refrigerator, dishware and basic cooking supplies. The bathroom is small with a standup shower.
STUDIO DETAILS
The Residency Studio has open air flow into the lobby and gallery area which makes the following restrictions necessary:
The Residency Studio is climate controlled, but due to its proximity to the doors and the large windows it can be warmer/cooler than the rest of the space depending on outside temperature.
Limited furnishings in the Residency Studio are available. Accepted applicants must provide their own materials and supplies.
Sulfur Studios does not insure the property of the Resident artist.
RESIDENCY DATES
Visit us online to view specific May, June, July, and August 2023 Residency dates and activities.
APPLY ONLINE – $50 Application
Visit us online for complete details.
Applications will be judged on overall quality of work and the level of community engagement afforded by the proposed project.
Collaborative teams are eligible for the Residency.
Artists may seek additional support or funding from other organizations to cover project costs if they wish. Sulfur Studios will be happy to provide a letter of support to accepted Residents seeking grants or other funding sources.
---
About:
Sulfur Studios is a project of ARTS Southeast – a nonprofit whose mission is to make Savannah a destination for art and culture in the Southeast by supporting established and emerging artists and engaging a diverse community with creative programming by developing awareness and appreciation of the arts.
Sulfur Studios
2301 Bull St
Savannah, Georgia 31401
Apply for this Opportunity