This opportunity listing has expired and may no longer be relevant!
Art Calls

Target Gallery 2023 Open Call for Solo Exhibition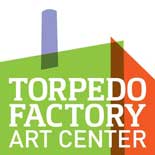 Opportunity Description
U.S. Multi-State Deadline: September 18, 2022 – Torpedo Factory Art Center invites artists living in the DC-metropolitan region of the United States (for the purposes of this opportunity: this includes artists living permanently in the District of Columbia, Maryland, or Virginia) to submit a proposal for a solo exhibition in Target Gallery, the Art Center's contemporary exhibition space.
The artist with the chosen proposal will receive an exhibition in Target Gallery, from April 22 – July 16, 2023. The artist will receive a $3,000 stipend for the opportunity to cover artists expenses.
All artists must be at least 18 years old to apply.
HONORARIUM
An honorarium of $3,000 may either be paid half up-front prior to the installation of the exhibition and half after the completion of the exhibition; or it can be paid in one lump sum at the completion of the exhibition.
ENTRY FEES
A non-refundable $40 entry fee* includes: the applicants artist's resume/CV, the submission of up to 25 images, an image list, an exhibition proposal, installation proposal, and an additional proposal for supplemental community engagement/program
APPLY ONLINE
Download Details.
SALES
A commission of 30% will be taken on all works sold as a result of this exhibition.
DATES
Application Deadline: Sunday, September 18, 2022
Exhibition Dates: Saturday, April 22 – Sunday, July 16, 2023
Artists Reception: Friday, May 12, 2023 (subject to change)
---
About:
Torpedo Factory Art Center promotes high standards of art by continuously exploring new ideas through the visual media in a schedule of national and international exhibitions.
Target Gallery is the contemporary exhibition space for the Torpedo Factory Art Center. We host eight exhibitions annually featuring a variety of themes, artists, and media focused on the latest trends in contemporary art.
Torpedo Factory
Target Gallery
105 N. Union St.
Alexandria, VA 22314
---

ATTENTION! ARTDEADLINE.COM IS CELEBRATING ITS 29TH YEAR OF QUALITY CONTENT
Join the 1000's of Emerging and Professional Artists today for real-time access to quality and exclusive content on the largest database of its kind.
OUR ANNIVERSARY CELEBRATION SUBSCRIPTION RATES START AT ONLY $8.00 (USD) / YR!!
Click here to Subscribe. Hurry as our anniversary special rate will end soon.
Apply for this Opportunity