Compete

The 38th Bradley International Print & Drawing Exhibition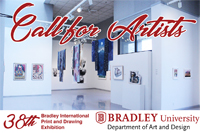 Opportunity Description
International Deadline: August 15, 2022 – The Bradley International Print and Drawing Exhibition is the second-longest running juried print and drawing competition in the country. Every two years, it features the best contemporary graphic artwork from around the globe.
This year's exhibition will be held on campus at Bradley University at Heuser Art Gallery and Hartmann Center Gallery, as well as The Peoria Riverfront Museum and The Peoria Art Guild. On display February 3, 2023 – March 31, 2023.
ELIGIBILITY
Open to all traditional and non-traditional graphic media, including all forms of printmaking, drawing, and book arts.
JUROR
The juror for the 38th Bradley International will be Tyanna J. Buie. A Chicago, IL and Milwaukee, WI native, Tyanna Buie is a visual artist who received her BA from Western Illinois University, and her MFA from the University of Wisconsin-Madison. Her work has been acquired by major institutions and private collections nationally and her work has been reviewed on Hyperallergic.com and New American Paintings No. 155. Currently, Buie is an Assistant Professor/Section Chair of Printmaking at the College for Creative Studies in Detroit, MI.
AWARDS
Cash awards will be selected by the Juror. Purchase awards will be made by the University.
ENTRY FEE
The entry fee is $20 per piece entered, non-refundable.
DATES
Deadline for Entry: August 15, 2022
Notification of Jury Results: October 15, 2022
Deadline for Receipt of Art Work: November 15, 2022
Exhibition Dates: February 3, 2023 – March 31, 2023
---
About:
The Gallery Program at Bradley University is designed to create a challenging environment that stimulates discourse among students, faculty, staff and the public as they explore the range of ideas addressed in contemporary art. We have two formal exhibition spaces, one in the Heuser Art Center where the art department is located, and one in the Hartmann Center where the theatre department is housed.
Heuser Gallery
1400 W. Bradley Ave.
Peoria, IL 61625
Hartmann Gallery
1423 W. St. James
Peoria, IL 61625
Apply for this Opportunity