Art Calls

The Gifts of Art Program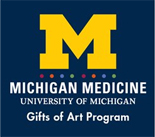 Opportunity Description
U.S National Deadline: June 30, 2022 – The Gifts of Art Program is seeking submissions for solo and group art exhibits for the September 2022 to August 2023 exhibition year. One of the first and most comprehensive arts in healthcare programs in the nation, Gifts of Art brings the world of art and music to Michigan Medicine at the University of Michigan.
Our nine 2-D and 3-D galleries throughout the medical center are viewed by approximately 10,000 people a day and display over 30 exhibits a year.
Gifts of Art's rotating gallery program is intended to support the healing process by calming nerves, lifting spirits, engaging minds and thereby reducing the stress and anxiety often associated with healthcare settings. At Michigan Medicine, inclusion is a core value with the goal of fostering an environment where every individual has a sense of belonging. This value is reflected in the artwork we select for our galleries: art that welcomes, art that amplifies voices, and art that reflects the community we serve at Michigan Medicine. People of all races, ethnicities, ages, genders, sexual orientations, religions, beliefs, abilities, socioeconomic statuses and levels of education are welcome to apply.
APPLY ONLINE – No application fee
Original artwork only
Brief description of the proposed exhibit
Solo artists upload a minimum of 15 high quality JPEG images
Group shows upload a minimum of 24 high quality JPEG images
Accepted artists must provide enough artwork to fill an entire gallery site
Artists are responsible for the delivery of their artwork to and from Michigan Medicine
Artists are responsible for all shipping costs to and from Michigan Medicine
---
About:
One of the first and most comprehensive arts in medicine programs nationwide, Gifts of Art brings the world of art & music to Michigan Medicine. During times of stress and illness, the arts have the power to nurture and engage. Gifts of Art programs utilize the arts to assist and enhance the healing process, reduce stress, support human dignity and renew the spirit.
Apply for this Opportunity