This opportunity listing has expired and may no longer be relevant!
Compete

Art Miami Week 2023 – Small Works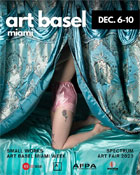 Opportunity Description
International Deadline: September 30, 2023 – Be a Part of Art Basel Miami Week 2023.
We are accepting all contemporary artists worldwide, amateur and professional. All forms of contemporary art are accepted. Size restriction: Work must be between size "11×14 – 8×8".
AWARDS
Two artist will have the opportunity to showcase their work during Art Basel Miami 2023 at Spectrum Art Fair and in our gallery website online exhibition.
4 Honorable Mention will receive the opportunity to showcase their artwork in our online exhibition for 2025/2026
GUIDELINES
We will print, mat and frame selected artworks for all of our exhibitions for photographic images. Prints, mats and frames will remain with the gallery when the exhibition closes.
We accept original pieces and prints from original paintings as well. Original works will be return to the artist one month after the show.
SIZE RESTRICTIONS
Work must be between size "11×14 – 8×8"
ENTRY FEE
$50 per entry (an entry includes up to 10 photos)
APPLICATION
Visit us for complete details.
SALES
All work must be available for sale. AFPA will take a 20% commission of any sales. All work must have editions.
---
About:
AFPA exists to elevate art created by analog and other photographic processes, in pursuit of enhancing the awareness and appreciation of contemporary photographic art.
With values of inclusivity and fellowship over exclusivity and estrangement, AFPA works in the interest of advocating for the photographic community. We promote a range of emerging and professional photographers (both nationally and internationally) who are currently producing art. In our efforts to promote a photographically responsive and grateful community, we also work on projects with other galleries and museums with similar ambitions to AFPA nationally and internationally.
The Analog Film Photography Association
221 E. Colonial DR.
Orlando FL 32801
Apply for this Opportunity