This opportunity listing has expired and may no longer be relevant!
Art Calls

No But Where Are You Really From?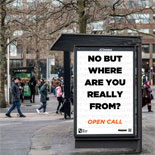 Opportunity Description
International Deadline: April 23, 2023 – The Gallery is a new kind of cultural institution without walls that challenges traditional models of viewing art. A major project, The Gallery exhibits contemporary art in public spaces traditionally reserved for advertising, to stimulate debate about the important questions of our time.
Launching September 2023, Season 3 of The Gallery will continue this mission, inviting artists from around the world to respond to the theme:  No But Where Are You Really From?
"We live in a globalised world of international travel and mass migration. Over the centuries peoples, animals, plants and pathogens have continuously crisscrossed the Earth's oceans and continents. So, what part does place still play in identity?"
The Gallery's Season 3 theme encourages artists to ask timely questions about origin, inclusivity, belonging, transition and exchange. The theme also invites artists to consider what it feels like to be excluded or denied on the one hand, and accepted and embraced on the other.
ELIGIBILITY
The call out is open to practitioners aged 18+, working at any level, including students. This initiative exists to champion ground-breaking artworks by artists at any stage of their practice.  Artists can be based anywhere in the world.
BENEFITS
Successful artists receive:
A fee of £2,000
Support from Creative Director Martin Firrell
Support from our exhibition Guest Curator Bakul Patki
An international platform to exhibit work – including through the dedicated website at thegallery.org.uk
Invitation to exhibition launch in September 2023. If based in the UK, standard travel and one night's accommodation will be included.
For artists based outside of the UK, a travel stipend of £200 towards any/all travel expenses, including visa fees and one night's accommodation is included.
or those based outside the UK, Artichoke will explore additional means of support towards travel costs where possible (e.g from Embassies, Trusts and Foundations).
And more…
APPLY ONLINE – No Fee
To find out more and to apply, please visit The Gallery website.
020 7650 7611
(Mon – Fri, 10:00 -18:00)
thegallery@artichoke.uk.com
---
About:
Artichoke produces extraordinary and ambitious ephemeral events that live in the memory forever, transforming people's lives by changing the way they see the world.
Artichoke Trust 28
Commercial Street
London
E1 6AB
Apply for this Opportunity