Compete

Boynes Emerging Artist Award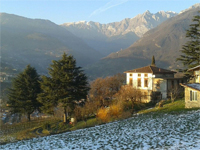 Opportunity Description
International Deadline: October 30, 2022 – The  has partnered with the Rural Residency for Contemporary Art, which will provide 3 winners with the opportunity to participate in a 1 month residency in the Italian Alps along with exhibition opportunities in both Italy and the USA.
RUC supports multicultural dialogue and interdisciplinary exchange between international artists and local traditions in a rural dimension that offers artistic time in solitude and exchanges between peers. Sited in a remote location, RUC's isolated beauty is the ideal environment for intellectual work and creates optimal conditions for concentration and creativity, international exchange, friendship, and mutual understanding.
The Boynes Emerging Artist Award is an independent, international artist- run online art competition with a reward of cash, marketing, promotion and art supplies. We accept all 2D mediums from drawings to paintings to photography, etc. There is no set theme for our competition, we simply require you to submit the best in your portfolio. Our goal is to give artists a platform for their work, and exposure for emerging artists worldwide.
​ELIGIBILITY
The Boynes Emerging Artist Award is open to all living artists regardless of age, country of origin/residence, sex or religion. We recognise that emerging artists around the world have varying backgrounds and different starting points in their careers therefore there is no age limit in this award.
We accept all 2D and 3D artworks such as paintings, drawings, photography, sculpture, etc. on any support such as canvas, wood, digital, etc. We also do not have a requirement on the subject of your work, we are looking for what you consider the best work in your portfolio to be. Artwork must have been completed in the last five (5) years and must be the submitting artist's own original work. Video is allowed to be used to showcase sculptural works. Work will be judged based on skill, composition, originality and impact.
Our emerging artists are those who show significant potential, yet are under-recognized. They have not had international recognition and are not recognized as established artists or masters by other artists, curators, associations, critics, and arts administrators.
Emerging artists:
are the principal creators of new work
take risks and embrace challenges
develop voices revealing significant potential
are rigorous in their approach to creation and production
have some evidence of professional achievement but not a substantial record of accomplishment
are not recognized as established artists by other artists, curators, producers, critics, and arts administrators
AWARDS
The partnership between us will allow the 7th Edition 1st, 2nd and 3rd place winners to attend a 1 month residency at RUC in August 2023 together. But that is just the beginning, all 3 winners will receive the following:
International exhibition prioritization: Winners will be prioritized to submit a proposal for an exhibition at the U.S based Future Tense Gallery.
Group exhibition in the final week of the residency locally
Workshops and courses led by international artists such as Giorgio Cossu and Kelly Medford
Accommodation at RUC art residency for the time period of the residency
studio space
residency assistance
optional cultural activities, connection and networking with local and international artists
publication of the artists website on the RUC Artist Residency website.
ENTRY FEE
The entry fee for the 6th Edition is $45 for 3 images and $10 for each additional image [MAX 10 images]. The Early Bird fee is $35 for 3 images and $7 for each additional image [MAX 10 images].

APPLY ONLINE – Submissions Open August 1st.
Visit us online for complete details.
Work will be judged based on skill, composition, impact and originality.
Apply for this Opportunity