This opportunity listing has expired and may no longer be relevant!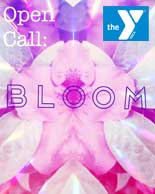 Opportunity Description
U.S. Multi-State Deadline: May 24, 2021 – Gallery 115 at the Y announces an open call for artists to enter our upcoming exhibition, 'Bloom'. Artists living in the Mid-Atlantic region are invited to submit works for consideration that respond, relate or interpret the word "Bloom" within the critical contemporary context of our world today.
THEME
The Merriam Webster Dictionary defines the word, "Bloom," in the verb form as to produce or yield flowers; to support abundant plant life, to mature into achievement of one's potential, to flourish in beauty, freshness, or excellence; to shine out; to become more apparent or fully expressed, to appear or occur unexpectedly in remarkable quantity or degree, to become densely populated with microorganisms; etc.
ELIGIBILITY
Open to artists 21 years of age and over, and a resident of the Mid-Atlantic States: (New York, New Jersey, Pennsylvania, Delaware, Maryland, Washington, D.C., Virginia, West Virginia.)
All media and styles on theme, including traditional, new media and installation, representational and abstract, are acceptable.
JUROR
Rula Jones is currently the Exhibitions Curator at Gallery 115 at the Y. She has over twenty years of experience in the Visual Arts in various roles. Her previous experience includes guest curating at several organizations in the Washington DC area, including the Griffin Art Center, the Black and White Gallery and the Mclean Project for the Arts. She has also held faculty positions at various notable institutions including The Corcoran College of Art + Design, The Brooklyn Children's Museum and Maryland Institute College of Art. She is also an internationally exhibiting multi-media artist whose work primarily explores identity within an increasingly globalized and culturally complex world.
ENTRY FEE
$25 for three works/images. Non-Refundable. (All proceeds go towards future exhibition art programming at Gallery 115.)
APPLY ONLINE
3 Art Works Maximum.
SALES
Commission: 80% Artist, 20% Gallery.
DATES
Submission Deadline: May 24, 2021
Artist Notification: May 31, 2021
Art Delivery: June 7-June 17, 2021 (All artists are responsible for shipping or in-person delivery.)
Exhibition Dates: Friday, June 18-Sunday, September 5, 2021.
Opening Reception: Saturday, July 10, 2021, 7-9 pm
Online Artist Zoom Talk: Sunday, August 8, 1-2 pm.
---
About:
115 is a non-profit Contemporary Art Gallery, a subsidiary of the Y Arts Center, located in a newly renovated historic building in downtown Frederick, Maryland. Frederick, Maryland is located less than one hour from Washington, D.C, and Baltimore and boasts a walkable and thriving downtown area with a variety of unique specialty shops, restaurants, galleries, museums, and theaters.
Y Arts Center: Gallery 115 at the Y
115 E Church St
Frederick, MD 21701
Apply for this Opportunity