Residency

Houston Center for Contemporary Craft Artist Residency Program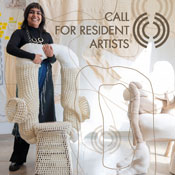 Opportunity Description
International Deadline: Annual Recurring March 1 – Houston Center for Contemporary Craft is now accepting applications for the Artist Residency Program.
ELIGIBILITY
Media accepted: Wood, Glass, Metal, Fiber, and Clay.
Applicants must be able to fulfill a program requirement of working in their studios for two days per week during HCCC public hours: Tuesday – Saturday, 10:00 AM – 5:00 PM.
All resident artists are required to open their studios to public interaction on Saturdays and one other day of the week (TBD), as well as during exhibition openings and specific educational programs on the evenings and weekends. Applicants should consider the public facing nature of the residencies and the fact that a major goal of the program is to provide visitors with an opportunity to explore contemporary craft through engaging with working artists.
BENEFITS
Benefits of the residency include 24/7 access to studio space, cultural and professional development opportunities, a monthly stipend that includes a small housing/materials allowance, and the opportunity to give an artist talk.
Five-to-10 residencies awarded
Residencies available in three-, six-, nine-, and 12-month time periods
Residency cycle begins in September and ends in August
Residency start dates and length determined by program review panel
$1000 monthly stipend that includes a housing/materials allowance
24/7 access to 200-square-foot studio equipped with sinks, telephones, and wireless Internet access
Ceramic artists have access to two electric kilns located in an outdoor kiln shed.
Wide variety of resources and opportunities, including teaching opportunities through HCCC and collaborative works with fellow residents
Ongoing professional development and enrichment opportunities with local museums, art professionals, and collectors
During the residency, artists have the opportunity to participate in a joint artist talk and display work outside their studios in collaboration with the Windgate Foundation Curatorial Fellow.
Upon completion of the residency, artists have the opportunity to show work in the annual In Residence exhibition at HCCC.
Additional opportunities, such as discussions with curators and gallery owners, exposure at HCCC events, and interactions with visiting art professionals
**New This Year**
BIPOC Support Grant Provided by HCCC & Crafting the Future
HCCC and Crafting the Future (CTF) introduce a new funding opportunity to support Black, Indigenous and People of Color (BIPOC) craft artists. Crafting the Future works to diversify the fields of art, craft, and design by connecting BIPOC artists with opportunities that will help them thrive. By banding together and pooling the resources of like-minded artists and art appreciators, CTF is making the changes they want to see in communities around the country.
Residents who identify as BIPOC can receive unrestricted funding in addition to their monthly honorarium. The additional support ranges from $500 to $1,000 and can be awarded as a one-time gift or on a scheduled monthly basis to support their practice. To apply, please complete the "Support Grant" section on the application.
Interdisciplinary Craft + Photography Artist Residency offered by Houston Center for Contemporary Craft and Houston Center for Photography:
The Interdisciplinary Craft + Photography (ICP) Artist Residency is designed for artists creating work at the intersection of contemporary craft and photography. This three-month residency supports artists with an experimental, multidisciplinary edge, who are testing the boundaries within both fields. ICP residents will be hosted in a studio space at HCCC and will receive all the benefits of regular HCCC resident artists. In addition, from Houston Center for Photography (HCP), they will receive printing credits and access to the digital lab. Artists will participate in a joint artist talk and will be included in HCCC's annual In Residence exhibition, as well as receive a feature in HCP's spot magazine.
Applicants must be able to demonstrate and address how their practice engages the fields of both craft and photography.
DEADLINES
Applications open annually: January 1 – March 1.
APPLY ONLINE – No Fee
Applicants for HCCC's Artist Residency and for the ICP Residency will apply through the same online application.
---
About:
Houston Center for Contemporary Craft (HCCC) is a nonprofit visual arts center dedicated to advancing education about the process, product, and history of craft.
Houston Center for Contemporary Craft (HCCC) showcases emerging and acclaimed artists in exhibitions, introduces visitors of all ages to contemporary craft through hands-on and virtual programming, and supports the development of working artists through its artist residency program.
Houston Center for Contemporary Craft
4848 Main Street
Houston, TX 77002
t: 713.529.4848
Apply for this Opportunity