Compete

Materials Hard + Soft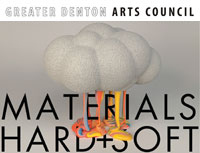 Opportunity Description
International Deadline: February 13, 2022 – The Greater Denton Arts Council proudly presents the 35th annual Materials: Hard + Soft International Contemporary Craft Competition and Exhibition. Recognized as one of the premier craft exhibitions in the country, Materials: Hard + Soft began in 1987.
The exhibition celebrates the evolving field of contemporary craft and the remarkable creativity and innovation of artists who push the boundaries of their chosen media. The 35th anniversary exhibition is expanded to two galleries both the Meadows Gallery and the Gough Gallery. Since 2017, the exhibition has expanded to include works by international artists.
Exhibition will run May 27 – August 27, 2022.
ELIGIBLE MEDIA
Works produced in any of the craft media: clay, fiber, glass, metal, paper, wood, or any combination of craft media, are acceptable. Entries must be the complete work of the submitting artist. Local, national, and international artists are encouraged to apply. Kits or commercially designed works will not be accepted. All work must have been completed within the past three years (2019-2022) and not previously exhibited at the Patterson-Appleton Arts Center.
All work must be ready for installation. Submissions are restricted to a weight limit of no more than 75 pounds. GDAC reserves the right to exclude any entry that presents complex installation or assembly problems.
JUROR
Tanya Aguiñiga (b. 1978) is a Los Angeles based artist/designer/craftsperson. She holds an MFA in furniture design from Rhode Island School of Design and a BA from San Diego State University.
Recent museum exhibitions include Disrupting Craft: Renwick Invitational 2018 at the Smithsonian American Art Museum, Washington D.C. and Craft and Care at the Museum of Arts and Design, New York. Aguiñiga is a United States Artists Target Fellow in the field of Crafts and Traditional Arts, a NALAC and Creative Capital Grant Awardee. She is the inaugural fellow for Americans for the Arts Johnson Fellowship for Artists Transforming Communities.
Aguiniga has been the subject of numerous articles for American Craft Magazine. She has been featured in PBS's Craft in America Series, as well as in episodes of the Emmy® award-winning arts and cultures series, Artbound, from KCET. Her work is included in the Los Angeles County Museum of Art (LACMA) Decorative Arts collection and Contemporary Arts collection, as well as in the collection of the Museum of Arts and Design (MAD) in New York, The Museum of Fine Arts in Houston and The Mint Museum in Charlotte.
AWARDS
The Greater Denton Arts Council will provide Juror Awards in the amounts of $1,000, $750, $500 and $250. Winners will be determined by the juror and will be announced at the opening reception of the exhibition on in late May 2022.
ENTRY FEE
Each artist is limited to three (3) entries. There is a $30 (USD) non-refundable fee for GDAC artist members and $35 (USD) non-refundable fee for non-members.
APPLY ONLINE
Visit us online for more details and to Apply.
SALES
A 30% commission will be retained from all work sold during the exhibition. Works which are not for sale must be clearly marked as such (NFS).
DATES
January 12, 2022 | Scholarship applications due
February 13, 2022 | Deadline for acceptance of online entry materials (by 11:59 PM)
March 19, 2022 | Notification forms sent to all artists
April 15, 2022 | Artist contracts are due
May 1 – May 21, 2022 | Shipped and hand-delivered artwork due at the Arts Center
May 27, 2022 | Opening Reception 6:00 – 8:00 PM. Award Ceremony 7:00 PM.
May 27 – August 27, 2022 | Exhibition on view at the Patterson-Appleton Arts Center
August 27 – September 17, 2022 | De-installation and return of artwork
*Exact exhibition dates & opening date subject to change. Final dates will be sent with the contracts.
Apply for this Opportunity