Art Calls

Future Stars: London & Athens Edition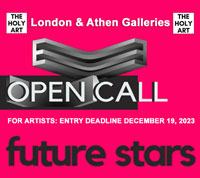 Opportunity Description
International Deadline: December 19, 2023 – The Holy Art Gallery's Future Stars event is the perfect opportunity for you to showcase your art to the world. Our annual event offers discounted rates for artists to showcase their work in both our London & Athens galleries. This is a unique chance to have your art seen by people from around the world!
We encourage artists from any background to submit their work, free of charge. So if you have a piece to share, don't hesitate to send it our way.
VENUES
Nestled in the heart of East London, our art gallery finds its home in one of the most vibrant and culturally diverse areas in the country. The location is only a quick walk from Dalston's overground station, making it easily accessible to all. Come visit us to experience the beauty and richness of art in such a lively and welcoming community!
Our Athens gallery is located at the heart of the liveliest community in the city center, radiating the energy of the surroundings!
All of our group art shows are ten day long with a private viewing hosted on a Friday from 19.30 – 22.00.
ELIGIBILITY
We welcome artwork submissions from all nations, in any creative medium – from traditional painting and sculpture to innovative video art, mixed media and even poetry and illustration. Our current OPEN theme provides endless possibilities to express yourself through your art. We look forward to exploring the diverse range of talent out there
ENTRY FEE
Submitting your work is free of charge. Please note, the participation fee of £100 for our physical shows in London is a flat fee per artist and not per artwork.
There is a fee of £80 if you are looking to be part of our digital screens shows in London & Athens.
APPLICATION
Visit us online for details.
---
About:
The Holy Art Gallery has rapidly gained recognition as a leading force in the contemporary and modern art scene, both locally and internationally. As a group of galleries, with locations in London and Athens, we specialize in curating art exhibitions and art fairs both in the UK and internationally. We are dedicated to providing artists with opportunities to showcase and promote their work.
The Holy Art London: The Factory
21-31 Shacklewell Ln
London, E8 2DA
The Holy Art Gallery: Praxitelous
26 Athens
Greece, 105 61
Apply for this Opportunity