This opportunity listing has expired and may no longer be relevant!
RFP/Q's

John Wayne Airport Exhibition Opportunities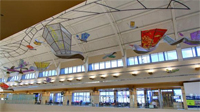 Opportunity Description
U.S. Regional Deadline: September 30, 2022 – John Wayne Airport (JWA) is calling for individual Orange County-related visual artists to apply for solo-style exhibition slots in the JWA Community Focus Space (CFS) program with monthly exhibit openings, beginning Mid-March 2023.
CFS exhibition art display cases are located prior to the security checkpoints in the Thomas F. Riley Terminal and are accessible to the visiting public seven days a week. Artwork in these exhibitions is displayed in eight Plexiglas box-covered exhibition cases: two wall cases 5' tall by 8' wide by 3" deep and six slanted table-top style cases 34" tall by 81" wide by 5-1/2" deep.
Exhibitions will run for approximately 30 days each at no cost to the artist. While JWA does not sell exhibited CFS artwork, any sales resulting from the exhibition are 100% to the artist.
ELIGIBILITY
To qualify for consideration, artists must have been born or raised or educated in Orange County; or currently live, work or own property in Orange County.
DOWNLOAD PROSPECTUS – No Fee
All applications will be reviewed by the JWA Arts Commission. Artists who submit applications to the review process will be notified of results by November 18, 2022.
---
About:
The John Wayne Airport Arts Program, overseen by the five member Airport Arts Commission, presents museum-quality exhibitions in the Riley Terminal, provides periodic special programs in conjunction with the exhibitions and sponsors a countywide Annual Student Art Contest/Exhibition.
John Wayne Airport
18601 Airport Way
Santa Ana, CA 92707
Apply for this Opportunity