Compete

MAGIX 2022: Dream, Fantasy, Illusion, Imagination, and Magic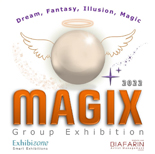 Opportunity Description
International Deadline: August 21, 2022 – MAGIX 2022 artist call encourages artists to provide artworks that express artistic visualization of Dream, Fantasy, Illusion, Imagination, and Magic.
Inspired by Gustave Flaubert's famous quote; for MAGIX 2022, we invite artists to walk us through their magical world of dreams and fantasies, where illusions and imaginations defy logic and present a world beyond reality, or perhaps showcase a deeper reality and underlying truth.
We are looking for artworks that extend our surreal possibilities, challenge our beliefs in our senses and give birth to a dreamlike fantasy world risen from artists' magical thoughts and illusive imaginations.
Tell your visual story of dreamy landscapes, fantasy characters, illusive creatures, futuristic images, sci-fi societies, horror imaginations, magical worlds, optical illusions, and abstract play of colors and lines.
The exhibition starts on September 10, 2022 and will continue until October 10, 2022.
ELIGIBILITY
Open to artists worldwide. Both representational and abstract art in any medium is welcome.
AWARDS
■ International Group Exhibition
Selected artworks will be showcased in a smart online international group exhibition organized by Exhibizone.
■ Public Choice Cash Prize
3 Artists with the highest rating in the whole duration of the exhibition will win US$ 1,000 cash prizes.
First Prize: USD 500
Second Prize: USD 300
Third Prize: USD 200
■ Exhibition Catalogue
All selected artworks and artists will be published in a stylish colorful exhibition catalogue available in both online and print versions. The catalogue will be promoted and circulated internationally, becoming available to thousands of viewers including art experts, galleries, curators, businesses and enthusiasts, via popular publication gateways.
■ Promotional Badges
A digital promotional badge for each artwork will be sent to each artist to share in the social media.
■ Artwork Reviews
All exhibition visitors can submit their reviews and ratings of the exhibition and each artwork online. Visitors' comments and ratings can provide valuable insights about the audience's feelings and understandings of the artworks. Artists will be notified about the received comments by email.
■ Exhibition Poster
Each artist will receive a link to the digital sharable version of the exhibition poster via email.
■ Social Media Badges
A digital social media promotional badge for each artwork will be sent to each artist to share on social media.
■ Artwork Rating and Comments
All exhibition visitors can post their comments and ratings of each artwork online.
■ Exhibition Press Release
An exhibition press release sent-out will be published in the art media to mark the event, attract more visitors, and increase the chances of artwork sales during the exhibition period.
■ Reports, Analytics and Insights
A report containing the number of views, comments, artworks popularity, the engagement rate of exhibition viewers with artworks, and sales statistics, will be sent to artists via email.
■ Artist Profile Page
Each artist receives a free online profile page on Biafarin platform.
■ Certificate
A digital certificate will be issued for all selected artists.
■ Biafarin Free Shipment
Selected Biafarin members with Platinum package will use a free shipment of their artwork(s) in case of sales.
■ see more
ENTRY FEE
Submitting to this artist call is free of charge, and a small selection fee applies to selected artists only. Artists can submit up to 5 artworks. Maximum 2 artworks will be selected from each artist.
APPLY ONLINE
Visit us online for more details and easy online Application.
---
About Exhibizone
As an art exhibition house, Exhibizone has become an international destination zone for visual artists to exhibit their art efficiently via one-of-a-kind smart online shows. Each exhibition targets specific segments of visitors and provides online sales features, news circulation, social media badges, catalogues, and exhibition posters to maximize the art exposure for participant artists.
About Biafarin
Biafarin is a Canadian registered artist management company, supporting artists from 100+ countries to promote and sell their art effectively. Exhibizone uses Biafarin technology platform to deliver the smart online group exhibitions to visual artists worldwide.
Biafarin is the sponsor of Public Choice cash prizes to winners and guarantees the delivery of service by Exhibizone.
Apply for this Opportunity