Art Calls

More Than Just Words: The Art of Communication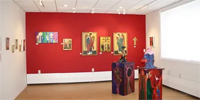 Opportunity Description
International Deadline: December 4, 2023 – Communication is a process through which information is exchanged between individuals through a common system of symbols, signs, or behavior. Through spoken and written words, dance, sign language, body language, music and more, we express ourselves and convey our messages.
How will you express the theme of communication through your art? We look forward to presenting a variety of interpretations on the theme of communication.
Exhibit Dates: February 3 to May 16, 2024
SUBMISSIONS – No Fees
Artists may submit up to 5 pieces* by email to exhibits@stlukesmetuchen.org images must be named as title_size_medium. For example, an 8×10 inch painting titled "Flowers" would be named flowers_8x10_painting. Please use inches for the size and do not include any additional information in the image name.
In the body of the email, please include your name, address, and phone number with a list of your entries.
---
About:
This permanent gallery space – a ministry of St. Luke's Episcopal Church – continues a long tradition of providing a home for the arts.  The gallery represents two years of preliminary work by the community of St. Luke's to prepare a direction and mission, ready a gallery ministry committee, determine the optimum location, and attend to the many details inherent in  creating a permanent showcase for the visual arts.
St. Luke's Nails in the Wall Gallery
St Luke's Episcopal Church
17 Oak Ave
Metuchen, NJ 08840
Apply for this Opportunity