Compete

INT'L All Media 2022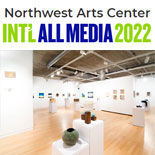 Opportunity Description
International Deadline: June 15, 2022 – The Juried Exhibitions at Minot State University have been through numerous changes. In 1969, the National Print and Drawing Show held its first call for entries. The 1980s brought the National Works on Paper Exhibition to artists across the USA. A look forward to the new millennium in the 1990s re-titled the exhibitions to Americas 2000 with the inaugural All Media exhibition held in 1993. Now, to better represent our multi-country appeal and entrants, we introduce INT'L All Media 2022. In this 28th year, it is our honor to invite you to share your works and your passion for art from across the world.
ELIGIBILITY
Works in any medium, traditional or experimental, including photographs, qualify. All artworks must be original. Work must be ready to exhibit, completed within the last two years, and not previously exhibited in an INT'L or Americas 2000 exhibition. It is preferred that two-dimensional work be framed and protected by clear acrylic glazing, unless alternative display is integral to the work.
VENUE
On Display August 5 through September 16, 2022:
Walter Piehl Gallery
Northwest Arts Center
Minot State University
Minot, North Dakota
JUROR
Sarah Justice has 25 years' experience in the arts. She is an artist and museum administrator as the Executive Director of Paris Gibson Square Museum of Art in Great Falls, Montana. Known for her work as a figurative sculptor, her road to that path varied beginning with drawing, photography, and painting. Her work focuses on aspects of the human condition, digging deeply into the emotional and psychological realms of human consciousness throughout time and intertwining personal experiences that are also universal for many women. The masculine is not left out of her work as it plays an instrumental role in the development of the psyche. The history of classical sculpture forms an important foundation for her topics surrounding beauty and the abject and her use of symbolism points to the timeless collective. Materials play an important role in the making of her work. Justice's preferred medium for sculpting is clay, but she uses non-traditional materials for final finishes. Drawing and painting inform her sculptural work by providing another voice and acts as a meditative practice in her everyday life… see more

AWARDS
$2000 in Cash and Purchase Awards: five Merit Awards and one Best of Show chosen by juror. Purchase Awards selected by faculty committee. Best of Show earns a future solo exhibition and an invitation to future Best of the Best exhibits.
CATALOG
The INT'L juried exhibitions publish an illustrated catalog. A complimentary copy will be sent to each entrant.
ENTRY FEE
2 entries/$30; Additional Entries: $5 each. Maximum of five entries allowed per artist.
APPLICATION
Download Prospectus and Application. Entries will be accepted by postal mail or email only.
NOTIFICATION
Entries will be acknowledged by e-mail as they are received. All entrants will be notified of selection results via e-mail on July 6.
SALES & COPYRIGHTS
Sales will be encouraged. A 30% commission will be charged on all works sold or purchased. Your entry grants permission to photograph your work and use your images for promotional or educational purposes only.
DATES
Deadline (postmark) for entries 15 June 2022
Notification of accepted works 6 July 2022
Receipt of accepted works begins 6 July 2022
Deadline for receipt of works 29 July 2022
Exhibition dates 5 Aug to 16 Sept 2022
Public Reception TBD 2022
Return shipping 21 Sept 2022
---
About:
The Northwest Art Center encourages and promotes artistic and multi-cultural expression with education and outreach through an interdisciplinary regional arts center.
Northwest Art Center
Minot State University
500 University Avenue West
Minot, North Dakota 58707
t: 701-858-3264
Apply for this Opportunity