This opportunity listing has expired and may no longer be relevant!
Compete

INT'L Paperworks 2023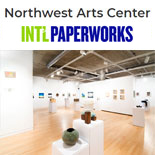 Opportunity Description
International Deadline: December 1, 2022 – Minot State University's Northwest Arts Center announces a call for artist for its upcoming INT'L Paperworks 2023 exhibition. On display 13 Jan to 17 Feb 2023.
ELIGIBILITY
Original works in any medium, on or of paper, traditional or experimental, including photographs, qualify. Work must have been completed within the last two years and not previously exhibited in an INT'L or Americas 2000 exhibition.
JUROR
Nicole E. Soukup has worked to bring regional artistic voices into an international context through her curatorial practice. Building on her interests in intersectional feminism and social practice, she co-organized the cross-institutional arts festival, "Guerrilla Girls' Twin Cities Takeover," spanning more than 80 institutions and organizations. In 2017, she was named the Assistant Curator of Contemporary Art and the Minnesota Artist Exhibition Project (MAEP) Coordinator at the Minneapolis Institute of Art (Mia). During her time at Mia, she has curated several notable exhibitions, including "Guerrilla Girls@Mia," "Sara VanDerBeek: Women & Museums," "Sky Hopinka: Disfluencies," and "Art and Healing in the Moment" (co-curated with Philando Castile family). As the MAEP Coordinator, she has overseen more than thirty exhibitions. Her tenure has seen increased national visibility, professional opportunities, and inclusivity in the juried program… see more

AWARDS
Cash and Purchase Awards: five Merit Awards and one Best of Show chosen by juror. Purchase Awards selected by faculty committee. Best of Show earns a future solo exhibition and an invitation to future Best of the Best exhibits.
CATALOG
The INT'L juried exhibitions publish an illustrated catalog. A complimentary copy will be sent to each entrant.
ENTRY FEE
2 entries $30; additional entries $5 each. Maximum 5 entries per artist.
APPLICATION
Download Prospectus and Application or send SASE to:
INT'L Paperworks 2023
Northwest Arts Center
Minot State University
500 University Avenue West
Minot, North Dakota 58707
NOTIFICATION
Entries will be acknowledged by e-mail as they are received. All entrants will be notified of selection results via e-mail.
SALES & COPYRIGHTS
Sales will be encouraged. A 30% commission will be charged on all works sold or purchased. Your entry grants permission to photograph your work and use your images for promotional or educational purposes only.
DATES
Deadline (postmark) for entries 1 Dec 2022
Notification of accepted works 15 Dec 2022
Receipt of accepted works begins 15 Dec 2022
Deadline for receipt of works 7 Jan 2023
Exhibition dates 13 Jan to 17 Feb 2023
Public Reception TBD 2023
Return shipping 1 Mar 2023
---
About:
The Northwest Art Center encourages and promotes artistic and multi-cultural expression with education and outreach through an interdisciplinary regional arts center.
Northwest Art Center
Minot State University
500 University Avenue West
Minot, North Dakota 58707
t: 701-858-3264
Apply for this Opportunity