Compete

51st Annual International Paperworks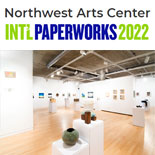 Opportunity Description
International Deadline: December 1, 2021 – Northwest Arts Center announces an open call for artists worldwide to enter work for its upcoming '51st Annual International Paperworks' exhibition.
ELIGIBILITY
Works in any medium, on or of paper, traditional or experimental, including photographs, qualify. All artworks must be original. Work must be ready to exhibit, completed within the last two years, and not previously exhibited in an INT'L or Americas 2000 exhibition. It is preferred that two-dimensional work be framed and protected by clear acrylic glazing, unless alternative display is integral to the work.
VENUE
On Display January 13 through February 24, 2022:
Walter Piehl Gallery
Northwest Arts Center
Minot State University
Minot, North Dakota
JUROR
Susana Crum received her MFA and MA in Printmaking with minors in Sculpture and Intermedia from the University of Iowa, Iowa City, IA, and her BFA from the College of Architecture, Art and Planning at Cornell University, Ithaca, NY. Her work has been featured in international and national exhibitions at venues such as Museu do Douro in Portugal; Nicole Longnecker Gallery in Houston, TX; 1078 Gallery in Chico, CA; Manifest Creative Research Gallery and Drawing Center in Cincinnati, OH; the Kentucky Museum of Art and Craft in Louisville, KY; and the Liu Haisu Art Museum in Shanghai, China. Recent artist residencies include Kunstnarhuset Messen, Ålvik, Norway; Mildred's Lane, Beach Lake, PA; Edinburgh Printmakers, Edinburgh, Scotland, 2016, and Kala Art Institute, Berkeley, CA, 2017.
She teaches printmaking as Associate Professor at Indiana University Southeast, New Albany, IN, and as Associate Director of Calliope Arts. From 2018-2020, she served as President of the Mid America Print Council… see more
AWARDS
$2000 in Cash and Purchase Awards: five Merit Awards and one Best of Show chosen by juror. Purchase Awards selected by faculty committee. Best of Show earns a future solo exhibition and an invitation to future Best of the Best exhibits.
CATALOG
The INT'L juried exhibitions publish an illustrated catalog. A complimentary copy will be sent to each entrant.
ENTRY FEE
2 entries/$30; Additional Entries: $5 each. Maximum of five entries allowed per artist.
APPLICATION
Download Prospectus and Application. Entries will be accepted by postal mail or email only.
NOTIFICATION
All entrants will be notified of selection results via e-mail by December 15.
SALES & COPYRIGHTS
Sales will be encouraged. A 30% commission will be charged on all works sold or purchased. Your entry grants permission to photograph your work and to use your images for promotional or educational purposes only.
DATES
Deadline (postmark) for Entries 1 Dec 2021
Notification of Accepted Works 15 Dec 2021
Receipt of Accepted Works 15 Dec 2021
Deadline for Receipt of Works 7 Jan 2022
Exhibition Dates 13 Jan to 24 Feb 2022
Public Reception TBD
Return Shipping 1 Mar 2022
---
About:
The Northwest Art Center encourages and promotes artistic and multi-cultural expression with education and outreach through an interdisciplinary regional arts center.
Northwest Art Center
Minot State University
500 University Avenue West
Minot, North Dakota 58707
t: 701-858-3264
Apply for this Opportunity