Compete

1st Pride International Juried Art Competition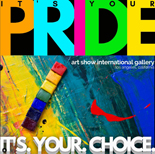 Opportunity Description
International Deadline: June 30, 2022 – Art Show International', commemorates and recognizes the impact that lesbian, gay, bisexual, transgender, and queer individuals have had on art.
Art that captures the subject of LGBTQ Pride Month in any form is acceptable for this contest. Artists are free to apply their own interpretation in representing the overall theme. Representational and abstract ideas based broadly on this theme, in any media, will be considered.
All profit from our PRIDE art competition will be donated to support the LGBTQ community.
ELIGIBILITY
Visual artists from around the world are invited to submit their best artwork on the theme for inclusion in the exhibition. All types of art styles may be submitted, including 2D and 3D works, painting, sculpture, digital, printmaking, fiber, photography, graphic, mixed media, as well as experimental and installation works.
AWARDS
Awards will be given to multiple artists in several categories. However, we're doing things a little differently for this competition. Rather than cash prizes given out to individual artists, profit money from the competition will be donated to charities which support LGBTQ communities.
​Depending on the number and quality of artwork submitted, the following awards will be considered:
​First Place Award
Second Place Award
Third Place Award
Special Mention Award
All award-winning artwork will be displayed on ART SHOW INTERNATIONAL GALLERY's walls. Artists will receive Certificates of Recognition and promotion via social media, monthly newsletters, and news media. At the conclusion of the art competition, winning artwork will be archived and considered for future publication as full page print and digital editions in leading art magazines.
ENTRY FEE
The entry fee for each artwork is $10 (non-refundable).
APPLY ONLINE
Visit us for complete details and easy online application.
TIMELINE
Deadline for Entries June 30th, 2022 (WILL NOT BE EXTENDED)
Winner Notification Starts Within 48 hours after close
Exhibition of Winning Artwork Starts Within 48 hours after close
Exhibition of Winning Artwork Ends July 31st, 2022
Winning Artwork Archived July 31st, 2022
CONTACT
Any questions, please contact us at info@ArtShowInternational.com. We respond to all queries within 2 to 6 hours.
Art Show International, a leading voice in the art community, purports to be one of the fastest growing art galleries in the world.
Apply for this Opportunity