This opportunity listing has expired and may no longer be relevant!
Compete

13th Annual Art & Earth Juried Art Exhibit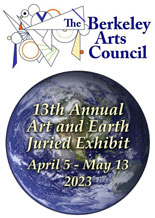 Opportunity Description
U.S. National Deadline: March 17, 2023 – The Berkeley Arts Council (BAC) announces the 13th Annual Art & Earth Juried Art Exhibit. The exhibit will be on display from Wednesday April 5 to Saturday May 13, 2023 at the Berkeley Art Works, 116 North Queen Street, Martinsburg, WV.
The exhibit has the theme 'Art and Earth: My Art – My World'. Entries should reflect the artist's view of nature, the environment, or reflect an Earth Day related theme.
ELIGIBILITY
The exhibit is open to all visual artists throughout the continental United States, over the age of 18, working in any fine art or fine craft medium or technique, in 2- or 3-dimensions, representational, abstract, or non-representational.
Entries must be original works of art that have been completed within the last three (3) years, and have not been exhibited previously at the Berkeley Art Works.
JUROR
Judith Becker received a BS in Design, Certificate in Art Education , University of Michigan and a MS in Education, Monmouth University. She started her work career as an art teacher for grades K-12. She then took a break to raise her children. She then spent over 25 years working in management for Macy's and for Citicorp Credit Services, lastly as VP of Human Resources and Management Training. Upon her retirement, she returned to teaching by instructing mostly adults in a wide range of art design disciplines. She has taught art classes for both the Garrett County, MD art association and the Berkeley Arts Council, Martinsburg. She also had the honor to be a juror for the Waynesboro Studio Art Club and Berkeley Arts Council… see more
AWARDS
Best in Show, Merit Award and Honorable Mention. Total prize fund up to $1,000.
ENTRY FEE
The entry fee for the exhibit is $35 for the first two works. Artists may submit one or two additional works for $10 each, for a maximum of four works.
APPLY ONLINE
Visit us for complete details and easy online Application.
Notification of acceptance e-mailed & posted: On or about Saturday March 15, 2023.
SALES
The BAC will retain a 30% commission on all sales. Works may not be removed during the exhibition.
---
About:
The Berkeley County Arts Council was formed in 2009 to provide unified communication, promotion, support and advocacy for the arts community in Berkeley County, West Virginia.
A successful arts community provides a rich cultural life for all members of the community and supports a "creative economy" by attracting twenty-first century businesses and the educated work force that comes with them.
Berkeley County Arts Council
116 N Queen St
Martinsburg, WV 25401
Apply for this Opportunity