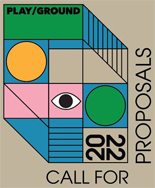 Opportunity Description
International Deadline: August 14, 2022 – The Play/Ground team is looking for proposals for engaging and immersive art installations that can excite and unite visitors around the power of art.
Selected projects will receive a budget for production and $600 artist stipend to make their work.
ABOUT PLAY/GROUND 2022
Play/Ground is a platform  for site-specific installations by contemporary artists. We invite the experimental, immersive, and ambitious. In 2022 our festival will be held October 7-10 at Buffalo RiverWorks in the former GLF Grain Elevator. Organized by the Buffalo Institute for Contemporary Art and Resource:Art, and presented by M&T Bank the fifth year of Play/Ground promises to be the best yet.
WHAT WE'RE LOOKING FOR…
Projects will be selected by the Play/Ground team and Buffalo RiverWorks and will be evaluated on the following criteria:
strength of the proposal and potential engagement with a Buffalo audience
feasibility of proposal within budget and timeline
connection to the unique site at Buffalo RiverWorks silos and public spaces
We are seeking a diverse applicant pool and welcome proposals from artists of color, indigenous artists, the LGBTQAI community, youth, elders, and artists based in Buffalo and beyond!
ARTIST FEES & PROJECT SUPPORT
Selected projects will receive an artist stipend in line with W.A.G.E standards and a production budget for their project.
APPLY ONLINE
To apply you'll need a project description and sketches or images that support your description, a budget, and details on viability and how you'll complete it in the allotted time.
For questions or more info email dreamteam@artplayground.com
---
About:
The Buffalo Institute for Contemporary Art (BICA) was founded in June 2018 with a mission to break down the barriers between the art world and the rest of the world and to make lives better through practical engagements with contemporary art. Co-founded by curator Emily Ebba Reynolds and artist and Buffalo native Nando Alvarez-Perez, BICA emerged out of our desire to reframe contemporary art around issues of regional community, creating a plurality of art worlds, and reconceiving art as a practical tool which can be used to reshape the world around it.
The Buffalo Institute for Contemporary Art
30 Essex Street
Buffalo, NY, 14213
About:
PLAY/GROUND started in 2018 as a weekend-long art experience at the former Medina, NY high school. Curated and planned by Resource:Art, 30+ artists were invited each year to create groundbreaking installations, performances, and experiences. These ticketed events were a huge success with rave reviews from the public and press, sold-out opening nights, and huge crowds through the weekend. The event was repeated in 2019 with an even higher rate of attendance.
In 2020, Resource:Art invited the Buffalo Institute for Contemporary Art to join as co-curators and organizers of the festival.
Apply for this Opportunity