Compete

Boston Printmakers 2023 North American Print Biennial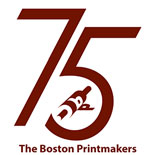 Opportunity Description
U.S. National Deadline: May 12, 2023 – Presenting the best in contemporary and traditional printmaking, the North American Print Biennial has long been recognized as one of the most prestigious events in printmaking. Founded in 1947 with the first exhibition held in1948, the Boston Printmakers has been making exhibitions for 75 years to promote excellence and innovation within the field of printmaking. This highly anticipated juried exhibition of artists living and working in North America showcases artwork ranging from traditional print processes and digital media to work in more expansive, interdisciplinary approaches.
Exhibition dates: October 10 – December 9, 2023 at 808 Gallery, Boston University, Boston, Massachusetts.
JUROR
Elizabeth M. Rudy is the Carl A. Weyerhaeuser Curator of Prints at the Harvard Art Museums, where she stewards the collection of roughly 60,000 prints made in Europe and the Americas from the 15th century to the contemporary era. She holds a Ph.D. from Harvard University, and her research focuses on prints of the 18th and 19th centuries, with particular interests in etching, book illustration, and works by the artist Pierre-Paul Prud'hon.
AWARDS
Over $12,000 is available in juror-designated purchase prizes and materials awards. The Boston Printmakers' purchase prizes are placed into permanent collections at the Museum of Fine Arts, Boston; the Art Complex Museum, Duxbury, MA; and the Boston Printmakers Collection at the Boston Public Library. Additionally, this show generates a large number of sales through patron and public purchases.
ENTRY FEE $45.00
APPLY ONLINE
Visit us for more details and to Apply.
SALES
A 35% commission will be charged on all sales. Artists must assume the expense and responsibility of supplying to purchasers any additional prints in the edition that may be sold. The Boston Printmakers is a non-profit organization that uses proceeds from commissions for exhibition expenses. *PLEASE NOTE: Artwork information, including the price of framed work (with 35% commission), cannot be changed from what is entered.
DATES
May 12, 2023 Application process closes
June 7, 2023 Notifications emailed
June 16-30, 2023 Period to receive shipped work (*from outside U.S. by June 23)
Sunday, June 25, 2023 Hand delivered work received at Lesley University, Cambridge MA
Exhibition dates: October 10 – December 9, 2023
Following dates subject to change:
Saturday, October 14, 2023 Public Reception and Juror's Talk
Saturday, December 9, 2023 Exhibition closes
December 11-12, 2023 Pick up of hand delivered work at Boston University
December 12-13, 2023 Return of shipped work.
---
About:
The Boston Printmakers is international, professional print alliance based in Boston. It offers the best of contemporary print media, supporting traditional print techniques as well as promoting printmaking in the expanded field of installation, performance, and time-based media. Interfacing with digital media, prints are well positioned to play a cultural role in promoting justice and equity. The Boston Printmakers promotes public knowledge and understanding; it supports printmaking as both a traditional practice and an interdisciplinary field.
The Boston Printmakers at Lesley University
College of Art and Design
29 Everett Street
Cambridge MA, 02138
Apply for this Opportunity