This opportunity listing has expired and may no longer be relevant!
Internet

Climate Change: Right Here, Right Now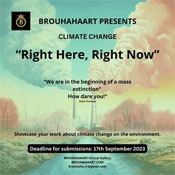 Opportunity Description
International Deadline: September 17, 2023 – BROUHAHAART is now accepting submissions for our Virtual Exhibition 'Climate Change: Right Here, Right Now'.
Climate change poses significant dangers to our planet, including more frequent and severe wildfires, flooding, and drought. However, there are actions we can take to mitigate these dangers and reduce our impact on the environment. Showcase your work about climate change on the environment.
On display 1st October – 21st October 2023.
ELIGIBILITY
Any artist from any background can submit any of their work.
SELECTIONS
Works will be judged based on creativity, originality, quality of work, and overall artistic ability. Winners will be chosen based on the quality of single entry as well as quality of overall work.
AWARDS
We will run an art contest during the exhibition.
1st Prize – Solo virtual exhibition [up to 20 artworks]
2nd Prize – Solo virtual exhibition [up to 14 artworks]
Competition results posted on BROUHAHAART and promoted to our wide-spread social media.
FEES
There is no charge to submit your application, please feel free to share your work with us. [A small fee (£30) is applied per artist once they have been selected for the exhibition].
APPLY ONLINE
Visit us online for more details and to Apply.
SALES
Artists are also free to sell their works, we take 0% commission, and any sale inquiries will be directed back to the artists.
---
About:
BROUHAHAART Gallery specializing in 3D Virtual exhibitions and curated Virtual galleries, serving a Global community as well as professional galleries, organisations and Artists.
Set up in Hong Kong, BROUHAHAART is owned and managed by Mr. Philip George. He has over four decades extensive experience in the service and publishing business, and actively administers various Social media Art platforms supporting local and emerging Artists here in Hong Kong and around the world.
Apply for this Opportunity