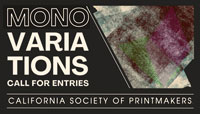 Opportunity Description
U.S. Regional Deadline: October 25, 2023 – The California Society of Printmakers announces an open call for its upcoming juried exhibition, 'Mono Variations'.
The Monoprint technique offers print artists one of the most basic ways to make an impression with a repeating template, stencil, or stamp, that can be loaded with infinite variation. We have probably all seen images of handprints on a rock. A hand print is a fascinating example because the same stamp will produce a different image every time. A monoprint series pressed from a static matrix has a repeating, and yet always morphing theme. Over multiple prints using the same matrix with different applications patterns arise, and variations may divulge a story.
On display January 13–February 17, 2024.
ELIGIBILITY
Open to all California based artists, and all CSP artist, student, lifetime, honorary members, regardless of location, who are current in their artist dues.
California based printmakers, and eligible CSP members are invited to Submit up to 3 prints from a series of monoprints, based on the same matrix, reusable template, origin of construction, or marked plate. The work should explore an image serially. Submit a minimum of 2, maximum of 3 prints for jurying. Original artwork must be a monoprint between 8″ and 22″ in width. Artwork must be clean, framed, wired and ready to hang or place on a base.
EXHIBITION
Accepted artists will have 2 works chosen to show as a pair in the exhibition at Arc Gallery, 1246 Folsom Street, San Francisco, California.
Accepted artists will have the option to show up to 5 works from the same series online, in our digital web gallery. Digitally displaying the many pieces together will highlight the depth and breadth of the collection.
JUROR
Michelle Edelman, founder and curator of Tint Gallery, San Francisco, CA
Michelle Edelman, founder and curator of TINT Gallery, is a trained art historian currently based in San Francisco. She received her MA from the Courtauld Institute of Art in London, where she focused her studies on 19th century British art. In her curation style, she is largely influenced by James Abbott McNeil Whistler. Prior to Whistler, Victorians stacked paintings from floor to ceiling, cramming in as much artwork as possible. Whistler changed this by emphasizing the need for each artwork to have breathing space, for the viewer to be able to interact with and focus on one work at a time… see more
ENTRY FEE
Application fee: $35, $25 for CSP members, for up to 3 pieces.
APPLY ONLINE
Visit us online for more details and easy online Application.
SALES
Artwork must be for sale. All artwork sales must be processed through Arc Gallery. Arc Gallery retains a commission of 40% of the artwork sale, 60% will be paid to the artist. Sold artwork must remain on exhibit for the duration of the show.
---
About:
The California Society of Printmakers (CSP) is a 501(c)(3) nonprofit arts organization which promotes the practice and appreciation of fine art contemporary printmaking. Our mission is to support both the integrity of traditional printmaking and provide a home for artists exploring new directions in contemporary print methods.
California Society of Printmakers
P.O. Box 194202
San Francisco, CA 94119-4202
Apply for this Opportunity