This opportunity listing has expired and may no longer be relevant!
Internet

Create! Magazine: Healing From Within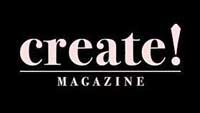 Opportunity Description
International Deadline: April 30, 2021 – Create! Magazine is thrilled to invite visual artists to submit their work to a juried international virtual exhibition with Tam Gryn, current head curator at 'Showfields'.
This open call is an opportunity to submit your work for consideration for a curated virtual group show. If chosen, your work will be included in a virtual exhibition through Create! Magazine and promoted to our broad audience of international readers, collectors, and followers.
ELIGIBILITY
Artists from any country are welcome to apply with works in any medium: painting, sculpture, digital, printmaking, fiber, photography, mixed media, installation, and more. The broad theme, "Healing From Within" is open to the artist's interpretation. Healing can mean medical, physical, emotional, spiritual or any other definition.
GUEST CURATOR
Tam is the current Head Curator at SHOWFIELDS where she is helping to bridge art with retail.
She is the former Head of the Curatorial Department of the Artist Pension Trust as well as Head Curator for RAW POP UP. Tam is the co-founder of Culturadora and currently sits in the Board of Directors of the Kulturspace Foundation in Berlin.
Originally from Venezuela, she studied Art History at the Sorbonne University. She then specialized in Diplomacy at the Herzeliya Interdisciplinary Institute in Israel and received her M.A. in Negotiation and Conflict Resolution from Tel Aviv University.
Tam has curated multiple art exhibitions as well as charity fundraisers. Cultural projects that Tam and her team produced hosted 300,000+ individuals, curated and 300+ site-specific art installations by global artists and reached 13B+ in online impressions… see more
APPLY ONLINE – $22 Submission Fee
The limit of submitted artworks is 10
Bio word limit 300 Statement word limit 300
---
About:
Create! Magazine was originally published in 2013 out of the need for emerging artists to showcase their work. Through collaborations with leading galleries, art fairs, curators, and art world professionals, we have grown into a powerful platform that is deeply committed to supporting emerging artists on their path to success and helping them achieve greater visibility in the art world.
Apply for this Opportunity